Ladbrokes Poker Bonus and Bonus Code

Use Bonus Code: BEST1000
Visit
Ladbrokes Poker
100% Up To $1020
Player Rewards Program
Must Use Bonus Code BEST1000
Mac Compatible YES
Linux Compatible YES
No download Option YES
Accepting
US Players NO
Ladbrokes
Poker Review
Ladbrokes Poker
Bonus Code
Ladbrokes Poker
Compatibility
Ladbrokes Poker Bonus
(Please Note: This site does not accept players from the USA)
Poker is just one of many aspects that make up the respectable brand known as Ladbrokes.com. The company has years of experience in gaming and is one of the most respected bookmakers in the UK. They offer a large variety of games and limits and have great promotions such as awarding seats to live WSOP and EPT events. The poker room accepts PayPal, provides gaming in multiple currencies and through InternetPoker.com, players can earn the highest bonus available at Ladbrokes Poker. This page provides details on the new first deposit bonus, regular promotions available at Ladbrokes Poker and VIP program.
Ladbrokes Poker Bonus Code
100% up to $1020 Poker Bonus - Must Use Our Bonus Code BEST1000 on Signup!
When you visit Ladbrokes Poker and use the Ladbrokes bonus code BEST1000 you can earn up to $1020 free with your first deposit. The Ladbrokes Poker welcome bonus is only one of many offers the room provides players, which also includes reload bonuses not just for the poker room but also the sports book and casino.
Ladbrokes Poker Games
This bonus is a pending bonus, which means that you will need to clear your Ladbrokes Poker bonus before you'll be able to play with or withdraw it. Players can clear the bonus by generating rake playing real money ring games and tournaments. For every $1 in rake that is generated, Ladbrokes Poker gives you 10 player points. A minimum of 1,750 points is required to earn any portion of the bonus and 35,000 or more is needed to clear the bonus in its entirety.
There are a couple things to keep in mind when you make your first deposit with the intent of clearing this bonus.
* 45 days are given to clear this bonus.
* Ladbrokes uses a weighted calculation system to determine how much rake was generated. This means that the amount of rake you generate is determined by the exact amount of money that you put into the pot.
Players should be aware of these two facts because this bonus may be difficult to clear for some. If you are a really tight or nitty player, 45 days may not be sufficient to clear this bonus since you need to play many hands and/or put a substantial amount of money into any given pot to be credited with generating rake. This bonus shouldn't be much of an issue for players with a looser style of play.
Another important note is that the bonus is released in full, not in periodical increments, and is released after the bonus period is up. Once players have gotten to the 45-day mark, a bonus completion form will need to be filled out and submitted to obtain the bonus.
Ladbrokes Poker Software
Similar to many other online poker sits, Ladbrokes' offers several uses for the points earned at their tables. Players can utilize their points to gain access into Ladbrokes' Poker Player Club. This VIP program consists of 4 different levels, bronze, silver, gold and VIP. Players move up the ranks and earn better incentives with the more points they earn. Some incentives include the ability to cash in Player Points, participate in €1,500, €1,750 and €8000 monthly and quarterly freerolls and access to special treatment from Ladbrokes' VIP staff. There are four levels in the Ladbrokes VIP program and as a side bonus, you can collect additional bonuses by playing in the casino or sportsbook, as the entire Ladbrokes.com network is connected in one. The VIP program for the poker room awards players as follows;
Bronze - Bronze players are able to use their player points for sit n go tournaments and cashback at a rate of 2000pts/$1.
Silver - Silver VIP is earned once you have accumulated 500 points and will award you with cash back, €1500 Freeroll on the 15th of every month, and points for tournaments.
Gold - Gold membership is received once you've earned 3000 points during the previous calendar month. This level provides the same benefits as above, except your freeroll will jump to €1750 each month.
VIP - VIP is awarded to players who earn 10,000+ points during a calendar month. Players receive the same benefits as the other three levels however now you will receive €8000 freeroll every four months plus €2000 worth of merchandise.
How The Deposit Bonus Works
100% Up To $1020
Example:
Receive up to $1020 free when you signup to Ladbrokes using our bonus code BEST1000. This is a pending bonus. If you deposit $100 you will receive $100.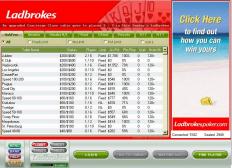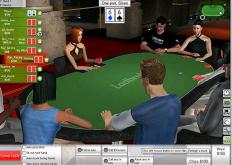 Bonus $1000
Match 100%
Referal CodeBEST1000
VIP Program YES
Online Store NO
Email info@ladbrokespoker.com
Phone 1-800-632-6088