US Online Poker Sites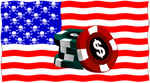 In October of 2006, the Bush Administration passed the UIGEA bill, which has influenced how Americans play poker online today. This bill led to a large number of poker sites like Party Poker to no longer allow players from the USA to play and deposit. However, this bill did not make it illegal for Americans to play poker online at these US poker sites. In fact, there are more reputable and legit US poker sites for players than ever before.The US sites listed below don't have the volume of players that Pokerstars and Party do, but they do offer the following benefits;
What Poker Sites Accept USA Players?
Following the UIGEA of 2006 and the Black Friday crackdown of 2011, a lot of the poker sites which used to welcome US players were forced to leave this market.
Fortunately, there is now an established group of brands located offshore which still provide plenty of real money poker action. Some of the brands that you will find in places like Central America and the Caribbean are well known names which have been around for many years.
These include BetOnline, a big gambling portal based in Panama and the leading site on the Chico Poker Network. Ignition Poker is a newer site, though their software and schedule will be very familiar to many US poker players. The Winning Poker Network includes sites such as America's Cardroom and Black Chip Poker. This network is making a name for themselves in the tournament area – hosting the only regular $1 million guaranteed online tournaments available for US players.
Funding US Poker Accounts
You'll find a lot of ways to get money on board at US poker sites – despite the best efforts of the banking system to block these transactions. Credit cards still work well. You'll be making an international cash purchase using Visa, MasterCard or Amex (depending on the poker site). If your cards get declined there is always the backup of a prepaid Visa card.
Transfers using Western Union or MoneyGram are a popular and very reliable US funding option these days. Here you will transfer to a named representative of your poker site, usually using a local branch office. Your wire will be reconciled with your player account and the money will be with you in hours.
Bitcoin poker sites areproving to be a big success. This virtual currency is easy to use these days. All you need is a wallet (think of this as similar to a PayPal account) and you are good to go. Once you fund your wallet (buy Bitcoin) you are free to use this money outside of the remit of the US or any other government authority.
Is Online Poker Legal for US Players?
It is now more than 10 years since the federal UIGEA (unlawful internet gambling enforcement act) was passed. I do not know of many other laws which are the subject of more misinformation in the mainstream press.
The UIGEA never made it illegal for individual players to enjoy real money poker online. In fact, individual players are not even mentioned in this act.
Instead this law targets gambling sites and banks within US jurisdiction. It makes it illegal for banks to knowingly facilitate transfers to online gambling sites – and for the sites to accept those transfers. The effect of this was to force the well-managed international brands out of the US. These have since been replaced by many trusted brands, which operate offshore – outside the jurisdiction of the US federal authorities. Individuals can play for real money at these sites without breaking any federal laws.
State Laws with US Online Poker
Most state level statutes relating to gambling were originally drawn up long before we had the internet. Some have been updated since then, though many others have not.
There are 3 states which have recently regulated online poker, and now allow licensed sites to offer real money games within their borders. These are Delaware, Nevada and New Jersey. It is hoped that other states will follow with their own regulation – though progress towards this has been slow so far.
Some states, notably Washington and Utah, have amended their statutes to specifically ban online gambling within their borders. Some offshore sites still offer games in those states. No individual player has been indicted for playing real money online poker anywhere in the US.
Most states rely on their pre-internet statutes – assuming online poker is illegal, though showing little appetite to test this in court. You'll find a mix of wording, with some statutes using terms like 'chance or skill', which effectively rules out the 'poker as a skill game' line of thinking from a legal viewpoint.
You'll find summaries of the legal situation in each of the states via the links below:
US Online Poker - Staying Safe While Playing Online
You can play online poker from the US legally, and have a range of good deposit options – the final step is to make sure your money is safe.
Several of the offshore brands have track records of several years with fast cashouts and no major scandals or issues. If you want to be extra certain, then there are some easy checks you can perform before you make a deposit.
I strongly advise that you do not play for real money at a US poker site which does not have an operating license. Licenses are awarded by countries including Curacao (Netherlands Antilles), Antigua and Panama. You should see link on the homepage of each site, and be able to verify the license online.
Second, I recommend you play only at sites which can demonstrate the fairness of their RNG (random number generator). Audits for these are carried out by 3rd parties such as iGaming Labs and Technical Systems testing. Again, you should find a link on your site's homepage and be able to verify this online.
The final check is to make sure there are no payment issues or other disputes going on. A quick search online should help you to verify this.
By sticking to a US poker site with a long track record, and performing these simple checks – you'll be able to enjoy real money poker from the US in safety.