US Poker Site Deposit Methods - USA Player Depositing Options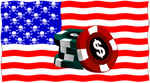 Safe USA Poker Sites Depositing and Payment Methods / Options
Neteller and other ewallets now no longer allow US players to use their services for depositing and withdrawing from USA accepted poker rooms. Also, players are reporting that their credit cards are being declined, so below we list all the options for US players and the easiest sites to deposit at. Visit our Online Casinos For USA Players page if you are after casino options.
Update - PokerStars and Full Tilt Poker have stopped accepting ALL USA Players. American players can still play poker online at any one of the poker sites listed below.
Payment Options For US Players - USA Accepted Depositing Methods
For the easiest way to deposit we recommend BetOnline Poker as they have fantastic credit card processing, and accept eChecks from USA players. Players should also note this site has the highest amount of fish you will find at any online poker site, making the games easy to beat.
Credit Cards - The easiest way to deposit, see which sites have the highest deposit success rates.
Western Union - You go into a western union shop, pay in cash and trf money to your poker room.
MoneyGram - This service is the same type as Western Union.
Rapid Transfer - This is what Bovada Calls their MoneyGram Service.
American Express - Only a couple of online casinos accept Amex.
Wire Transfer - You go into your bank and wire the money across to your poker room.
What Are the Alternatives to Neteller Poker Deposits?
Neteller leaving the US might have taken away a convenient deposit option – though it has not stopped people enjoying real money poker at offshore poker sites. Not only are there plenty of deposit options still available, these are getting through easier than ever. With the real money poker sites based in countries outside of the US, international payments are required. Since these are outside of American jurisdiction, payments can often be made smoothly and quickly.
The main Neteller alternatives available are credit cards, person to person transfers (this involves using Western Union or MoneyGram) and Bitcoin. You'll find information below on how each of these works. All of them will get your money on board – the real question is which of the Neteller alternatives is best for you?
Alternative #1 – Credit Cards
Federal authorities mandated that US banks block gambling transactions back in 2006 with the UIGEA. More than 10 years later, credit cards are still the single most popular (and easiest) way of getting money onboard real money poker sites.
The reason is that the poker sites accept international credit card purchases. There is a game of 'cat and mouse' with the payment gateways back to the US. Sometimes your 'cash purchase' will be declined, though overall these get through just fine.
All of the big brands are accepted, though not all by every poker site. Visa and MasterCard are the most commonly used for real money poker site deposits – you will also find Amex accepted.
If your cards do get declined there are three main options. First, try again later (new payment gateways are used all the time!). Second, you can get a prepaid Visa card from a gas station or a convenience store. I recommend you check with your site first, to see which brands are working. Third, you can try a different Neteller alternative – these are listed below.
Alternative #2 – Bitcoin
Bitcoin is a new type of currency which is decentralized (not under the jurisdiction of any government or financial agency) and exists only online. Most of the internet poker sites now welcome Bitcoin as a payment option.
Setting up and using a Bitcoin wallet is no more difficult than setting up a Neteller account! There are two main components. First, you need a Bitcoin wallet – think of this as the equivalent of your Neteller or PayPal account. Second, you need to fund this. While you used to transfer money from your bank to your Neteller account, you'll do this via an exchange with Bitcoin. This is easy to do, and you will have money in your Bitcoin wallet in a few minutes.
Once you have a funded wallet, you can deposit at the poker site. When you do, your Bitcoin will be transferred into dollars which you will play with. Since you will not be holding Bitcoin for long, any movements in the exchange rate will not affect you.
Poker Deposit Alternative #3 – Person to Person Transfer
This US deposit option involves using Western Union or MoneyGram. From the US, neither company will make direct deposits to gambling sites. To get around this, you transfer to an individual – thus the name 'person to person' transfer.
You need to get in touch with your poker site, who will give you the details of an overseas person. You then transfer the money either at your local branch office of MoneyGram or Western Union – or online using SpeedPay. The transfer is then reconciled, and you have the money in your account within hours.
This is a tried and tested method – and as long as you stick to a trusted poker site, it is completely safe as well. You can also use this method for withdrawals, though most sites will pass on the processing fees.
Poker Deposits and the Law
Using any of these alternatives to deposit at an online poker site is legal under federal laws. Restrictions that came into force in 2006 via the UIGEA are targeted only at the banks and gambling sites. This law makes the financial transactions between these entities illegal – though does not cover (or even mention) individual players.
Some States, for example Utah and Washington State, have laws which restrict the rights of their residents to play real money internet poker. Even in these restrictive states – no individual has even been indicted for enjoying the games.
While the convenience of Neteller has gone, there are still many effective ways of depositing on real money poker sites safely and legally. Check out the games for yourself today!