High Traffic Poker Sites
Find which poker sites have the most players online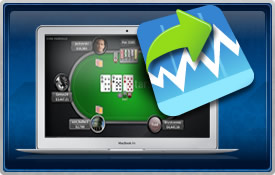 When you look at the size of online poker sites it is immediately apparent that one site dominates. PokerStars has peaks of more than 10 times the volume of players as their closest rivals – 888 Poker and the iPoker Network. While the high volume of traffic gives them many advantages, there are also some drawbacks. The size and ease of playing multiple tables at this site means that many of the opponents you face will be pros.
PokerStars are the biggest international site, though it is not open to US based players. In fact, none of the biggest poker sites are US-friendly. To find a good volume of games, US players will need to head offshore (to the Caribbean or Central American jurisdictions), where some fairly high volume sites can be found. The biggest is Ignition Poker, which recently took over the poker room of Bovada.
Below you will find more detail on high volume poker sites from around the world – with a look at the benefits of choosing one of these sites first.

Benefits of Choosing Large High Volume Poker Sites
With 1000's of poker players online at the same time, the highest volume poker sites can offer a wider choice of games and tournaments than smaller rivals.
For cash games this means you'll often have a huge list of tables to select from. If you view these in the lobby you can often use the stats on percentage of players to the flop and average pot size to spot the loosest and wildest games. At lower volume sites, you might only have a few tables to select from at each buy-in level, and those might be full of 'regulars'.
At the higher volume sites, you will also find enough people wanting to play higher stakes games to see a choice of these. While the main action is focused at the micros regardless of the size of the site, players looking for blinds at $5 / $10 and above need to hit the biggest rooms.
It is not only the choice of games and the stakes which volume makes a difference too – but also the types of poker game spread. While you will find Omaha games at online poker sites of all different sizes, other games are less common. A high volume of players means that a site can spread Stud, Draw and Fast-Fold poker variations as well as the popular No-Limit Holdem.
Tournament poker is a bigger beneficiary of high volume than cash games are. When a poker site is small, the prizes they can guarantee for tournaments are restricted (by the fact that they would lose money if these were set too high). This means fewer players signing up. At a big site, the big guarantees attract more players, which in turn mean that guaranteed prizes can be improved. This creates a 'virtuous circle'. Many of the bigger sites now run their own tournament events – these have guarantees which go into the millions of dollars.
Drawbacks of Choosing High Volume Poker Sites
Sticking with the tournament theme, the big fields and equally big prize pools have a downside. Many lower buy-in tournaments with big prizes attract many thousands of entries at the highest volume sites. This means you'll spend many hours playing. Some evening tournaments have final tables lasting until the early morning the next day. This works for some people, though many people that enjoy online poker tournaments also have job and family commitments. In this case a lower volume poker site with tournaments with around 100 to 200 players might be a better (weekday) bet.
Higher volume sites are attractive to pro-grinders. This subset of players play 8 or more games at the same time, know the math well, use tools to collect data on opponents – and often make a small profit from each table they play. This adds up to a good living (or part time wage) over time for these individuals.
At the biggest site, PokerStars, you'll often find yourself in situations where more than half of the players at a table are these multi-tabling pros. They target (using tools) novice players, often taking their bankrolls before they have time to develop poker skills.
While lower volume poker sites also have their share of pros, this is not at the same proportional rate as the bigger ones. Careful table selection and smart bankroll management are the best tools in avoiding these pros if you would like to play on the high-volume poker sites.
The final drawback of the high-volume poker sites is that service can become very corporate and sterile. To use the example of PokerStars once again, this site used to be known for their superior customer service. Nowadays things are very much scripted and impersonal.
Which Are the Highest Volume Poker Sites?
For non-US based players, the biggest poker sites are PokerStars (which is now paired with Full Tilt Poker as their players can reach either site), 888 Poker, the iPoker Network (a group of mostly sports betting brands who pool together their poker players), Party Poker and the MicroGaming Poker Network.
If you are based in the US, then the available sites are considerably smaller. The biggest is Ignition Poker, which features anonymous tables to restrict the tools used by the pros. After this there are the Winning Poker Network and the Chico Poker Network. Both of these are smaller sites, with peaks in player volumes coming on weekday evenings and at weekends.