Credit Card Accepted US Poker Sites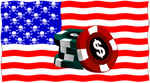 A Guide to Funding Your Poker Account Using your Credit Card
Despite the best efforts of the US government and financial institutions to block credit card deposits to offshore poker sites – this is still the easiest way to get money on board. This page takes you through the pros and cons, the laws and regulations, and the practical steps needed to successfully deposit.
The focus of this article is the US, since other countries have few restrictions and credit card deposits are much the same as any other online purchase.
Offshore Poker Sites, Legal Restrictions and Depositing Safely
With the exception of state regulated poker sites in Delaware, New Jersey and Nevada – the poker sites offering games to US players are based offshore. These sites are licensed and fully regulated by the governments of small nations including Antigua, Curacao and Panama (among others).
While the sites claim to be able to welcome players from anywhere in the world (under free trade laws), the US government does not agree. Under federal laws, the banking system in the US is forced to actively block deposits to online gambling sites. Note that this law does not cover individual players who wish to enjoy the real money poker games. While some states have their own anti-gambling laws (Utah for example), nobody has ever been prosecuted for depositing at an online poker site.
This has led to an 'equilibrium' situation where the offshore poker sites are trying to get credit card deposits through the payment networks of US banks – and the banks are trying to block these transactions. As things stand, most deposits do get through (though some are still declined). As long as your credit card is able to make international purchases, the chances are high that you'll be able to make a deposit.
Most of offshore poker sites are both safe and reputable. As long as you stick with the trusted and big brands featured here at internetpoker.com, you should have no worries with the safety of your deposit or the fairness of games. I do recommend you make sure that your preferred site is licensed and have had their deal checked for integrity – and that there are no major payment scandals reported online.
Which Credit Card Brands Can Be Used for Poker Site Deposits?
The main brands which work from the US are Visa and MasterCard. Both are accepted by almost all of the offshore poker sites. You can also use American Express (Amex) cards at some sites, though this is less common.
If your own cards do not work, you can buy a Visa card from a gas station or convenience store. These prepaid cards need to work internationally in order to make a deposit. I recommend you chat with the support team at your preferred online poker site before you buy. They will be able to tell you which brands are working for poker deposits at the moment.
Outside of the US there are also other card types. Many eWallets have their own virtual credit cards attached, and there are voucher type cards like PaySafeCard too.
How to Deposit Using My Credit Card?
All poker sites will work slightly differently in terms of the screens and names of the buttons you press to make your deposit. A generic process for making a credit card poker deposit would look like this:
First you'll need to have a player account at your poker site. It might sound obvious, but you need to make sure your personal information is correct (no fake address or date of birth for example). All reputable poker sites will ask for backup documents sooner or later.
Next you find the cashier area, usually a big and bright button on the poker client will lead you there. You will then see a choice of deposit options – choose credit cards and click on the logo which matches your brand.
The information you'll need to fill out includes your full name (the same as on the card), expiration date, long number from the front and security number from the back – and of course the amount of money you wish to deposit. You will also have the opportunity to add a coupon or bonus code at this point at many sites.
Next you hit the submit button, and hope for the best. What the poker site is doing is trying to get the transaction through the payment gateways and approved. When this is accepted you'll have the money to play with almost instantly. If it gets declined, then your next step should be to chat with the support staff at your poker site right away. Sometimes you can get the credit card deposit through by simply trying again later.
Alternatives to Credit Card Deposits
If your card is consistently declined, then it is time to find an alternative. Fortunately, there are several ways to get your money on board. I already mentioned prepaid Visa cards (again, make sure you know which brand is working). Other alternatives include using Western Union or MoneyGram – this type of transaction is known as a person-to-person transfer. You can also use Bitcoin for poker deposits these days. This is very easy to set up, and has the advantage of being outside of the reach of the financial authorities.