Linux Poker Sites - Linux Compatible Online Poker Sites
Reviewing the Best Linux Poker Sites Online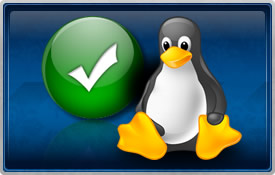 Linux poker players have plenty of options when it comes to playing poker online. Most of the top sites have revamped their software platforms to offer Linux poker players the ability to play on their networks without having to download any software. They've done this using flash applications and have replicated their download poker sites.

The Linux compatible poker rooms listed on this page provide an instant play poker room. You'll be able to create your account, deposit and play right in your browser. All of our Linux poker sites have great cash game and tournament action in addition to promotions and bonuses.

Playing Online Poker on a Linux
Above we've listed the best Linux compatible poker sites, who operate using flash to power the poker room. This of course means that Linux players won't need to download any software to play.  This isn't the only option available to Linux players. In fact, there are three methods available for Linux players who want to play poker online. This includes;
Java Poker / Flash Poker Sites for Linux
The poker sites above use a second application to power their poker rooms. Some may use Java applet, however most poker sites these days are opting for a flash client. With these types of sites, Linux players will be able to play right in their Internet browser and won't have to download any resource intensive software. The "instant play" poker sites load quickly and have equipped the rooms with identical features that a Windows player would receive when using the download. You will need to make sure your system meets the minimum requirements and has the most recent version of Flash installed.
Linux Poker Using WINE
The second method for playing online poker is WINE. WINE allows Linux poker players to download a "Windows" based poker room onto their Linux. If you would rather play on a Windows poker room you you will need to download the WINE program. It's free and pretty straightforward to install. Atfer the installation wizard has completed the install, the WINE program should load automatically and you can now download the poker room. You will need to follow the onscreen prompts and save the file. Once saved, you will need to open the file and run it. You can do this by typing in the command /tmp/nameofpokerfile.exe. After you the installation is complete, you will be forced to reboot the WINE program before you can open the poker software. If you would rather download a poker room onto your Linux, please have a look at our list of the top 20 poker sites.
Linux Poker Using Dual Boot
If you don't like WINE and still don't want to use an instant play poker room you do have a third option called a "Dual Boot". Similar to Macs, a dual boot gives you the ability to run both Linux and Windows programs on your Linux. There are some serious downfalls to performing a dual boot including memory or file loss. While we know not everyone wants to use WINE or play on a no download poker site, we bly suggest you look carefully into a dual boot before making the big change. Make sure whoever is helping you with the dual boot understands how it works, and always, always back up your files.