Paddy Power Poker Bonus - Up to $1000 Free at Paddy Poker

Use Bonus Code: N/A
Visit
Paddy Power Poker
200% Up To $1000 / £650 / €700
Cash Back + VIP Rewards
Must Use Bonus Code N/A
Mac Compatible YES
Linux Compatible YES
No download Option YES
Accepting
US Players NO
Paddy Power
Poker Review
Paddy Power Poker
Bonus Code
Paddy Power Poker
Compatibility
Paddy Power Poker Bonus
(Please Note: This site does not accept players from the USA)
Paddy Poker is one element of many that makes up the Paddy Power plc brand. Paddy Poker is mostly known for their slew of promotions including qualifiers to live tournaments, their renovated VIP program known as C*A*S*H and Paddy's (percentage here) sign up bonus which is good up to $1000 on your first deposit.
Paddy Poker Sign Up Bonus
Best Paddy Power Poker Bonus - 200% Up To $1000 / £650 / €700 Free On Deposit - No Bonus Code Required
Paddy Poker's sign up bonus is for all players who are signing up to Paddy Poker for the very first time. This bonus is a 200% match up to $1000 which a player can only receive when using the links on this site. You do not need a Paddy Poker bonus code to receive this bonus. Simply signup here and once you make your first deposit, the bonus will automatically apply to your account.
Clearing the Paddy Poker Bonus
Players must also "clear" the bonus before they are actually given the bonus money. This is achieved by playing real money ring games and tournaments all the while earning "Paddy Points." When playing tournaments and sit n go's, players will earn 20 Paddy Points for every $1 that is spent on fees.
In cash games, players will earn points based on the rake that the house takes from the pot. On the low end of the scale, approximately 1 point is given for every $.02 taken in rake. However, on the higher end of things, 29 points are given for $3.05 to $5 taken in rake.
Paddy Poker utilizes a "no flop, no drop" policy. This means that no rake is taken from the table when a hand does not see a flop, thus no points are earned. The policy can make it a bit difficult to earn points, especially when there are constant blind stealers. Additionally, Paddy Poker also uses the contributed method when determining their rake. This means that all players involved in the hand that see a flop will be credited with contributing to the rake and will then receive Paddy Points. If you fold pre-flop, you will not receive any points. This too can make it difficult to earn the bonus.
Players have 90 days to complete their bonus.
Paddy Poker C*A*S*H VIP Program
The C*A*S*H VIP Program is set-up to mirror the ranks of an army. There are six different tiers or "ranks" which include (starting at the bottom), private, lieutenant, captain, major, colonel and general. Each rank up will receive more benefits than the last. A few of these benefits include:
* Access to the Irish Open. This is only available for majors thru generals.
* Paddy point bankroll builders. These are $200 freerolls available only to privates thru majors.
* Reload bonuses, Paddy Point tournaments and freerolls. These are available for all VIP ranks.
Aside from the VIP Programme, points earned during real money play can also be exchanged for tournament tokens or cash prizes. The more the token or cash prize is worth, the few Paddy Points it takes to purchase it. This acts as an incentive to save your Paddy Points so you can get the most out of them. Be aware that some tokens (specifically for live events) can only be purchased by certain VIP ranks or higher.
How The Deposit Bonus Works
200% Up To $1000 / £650 / €700
Example:
Deposit $200 and receive $400 free. You don't need a bonus code to receive our Paddy Power Poker bonus. The bonus is released by earning FPP's and receive rewards in the VIP program.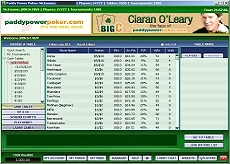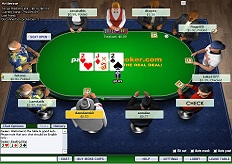 Bonus $1000
Match 200%
Bonus CodeN/A
VIP Program YES
Online Store NO
Email poker@paddypower.com
Phone +353 1 488 1750