SportsBook Poker Review - SportsBook.ag

Use Bonus Code: SB750PK
Visit
SportsBook Poker
200% Up To $2000
Plus an EXTRA 25% Casino Bonuses
Must Use Bonus Code SB750PK
Mac Compatible YES
Linux Compatible NO
No Download Option NO
Accepting
US Players YES
SportsBook
Poker Review
SportsBook Poker
Bonus Code
SportsBook Poker
Compatibility
SportsBook Poker Review
200% up to $2000 + 25% Betting Bonus - Must Use Bonus Code SB750PK
SportsBook Poker provides 24/7 tournaments, action-packed cash games and is the largest poker site on the Merge Network. The SportsBook download is the only method available for players who want to play at SportsBook Poker, and once you join the poker room using our promotion  code below you will receive our exclusive bonus, giving you 200% up to $2000 PLUS an extra 25% bonus for casino or sportsbetting. The software supports the standard game variants in addition to mixed games.
Download SportsBook Poker here and receive up to $2000 free!
Sportsbook Poker Download / Mac / Windows
Sportsbook Poker only offers a download client at this time, however they have said a Mac version will become available in the coming months. The minimum requirements to run Sportsbook's software is Windows 2000, XP or Media Center, 366Mhz, 256 RAM, 40MB of free space and access to the internet. If your computer is superior in any of those areas, you will find the software will run much smoother and faster as well. At this time, Mac computers are not supported and Sportsbook's software will only run on Macs that are using emulators. Please realize that no support will be available if you face any issues with the software while running it on a Mac.
SportsBook Poker Software Features
The lobby is very easy to navigate since each aspect of the room including the cashier, rewards, cash games and tournaments all have their own tabs. The sportsbook and casino can also be reached via the Sportsbook Poker lobby. The poker room software supports Texas Hold'em, Omaha, Omaha Hi Lo, Seven Card Stud, 5 Card Draw, 2-7 Triple Lowball, Razz and HORSE with stakes starting as low as $0.02/$0.04 and increasing up to $25/$50.
The lobby is very easy to navigate and will allow you to find your games quickly using the quick seat tools or by selecting games from the main window. The size of the stakes are right next to the name of the table followed by the variation, how many players are seated, how many are waiting and your standard stats such as players to the flop, average pot size and how many hands are played per hour. If you'd like to find games faster, Sportsbook has an extensive filter located at the bottom left of their lobby. You can choose what games you'd like to play, variation and stakes and only those games will be presented.
The table options that Sportsbook offers are standard. They have a 4 colored deck option, auto-muck, display pot/bet amount and multi colored deck colors (card backs). Players can also take notes and label their opponents according to color such as red for "great player" or green for "easy money" or "fish." Other options include both a slider for betting and a 1/2 pot, pot and all in buttons plus the ability to manually enter bet sizes. Players can also resize their tables. The ability to either cascade or tile them is available as well.
Graphics wise - SportsBook Poker blows their competition out of the water. The poker room software uses flash and is heavy in the graphics department, which in turn is why you will find more features and effects on this client than any other. The poker room uses Merge software which is known for the animation within the poker room as well as slick graphics and lightening fast speed. The software supports some unique features including an excellent tagging system with a built in instant messenger. This is a great feature when you've tagged fish and want to track their games throughout the client.
Additional features available on the new software include the rabbit hunt, which allows you to see the remaining community cards when a hand was folded before showdown and the play it twice option for heads-up players. This feature gives players in a heads-up position (in  six-max or full ring only) the option to run through the hands once or twice to determine the winner.
Overall, the new SportsBook Poker software is definitely one of the best in the industry and will not disappoint.
How The Deposit Bonus Works
200% Up To $2000
Example:
Receive the top bonus at SportsBook Poker when you download the poker room from our site. Make your first deposit and get a 200% match + 25% extra in the casino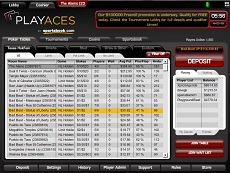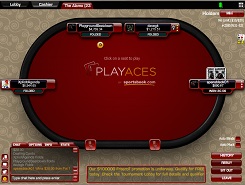 Site www.SportsBook.ag
Bonus $2000
Match 200%
Referal CodeSB750PK
VIP Program YES
Online Store YES
Email pitboss@sportsbook.ag
Phone 1-800-632-6088