High Player Traffic Poker Sites - The Busiest Online Poker Rooms
Find which poker sites with the highest poker player traffic online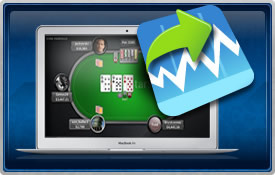 If you've been playing online poker for a while, and have become experienced and ready to take on all challengers, then it's time to find yourself a site with high player volume. Basically, a high player volume site is one where the average number of logged in players runs into the thousands.
One of the top reasons you would choose to play at a high player volume poker site is that the tournament action tends to be thick and fast with extremely high prize money. Since the field is open to thousands instead of just a handful of players, even a five dollar buy in can turn into a small fortune if you make it to the final table.
Websites with high player volume 10 to be part of a larger poker networks. Most of them are proud of the size of their play community, so you should find stats about their player volume listed on their front page, which helps to make a decision. Some of the sites below are considered to be some of the easiest poker sites online, while others are considerably stiff. The lobby stats will guide you in this area.