PokerStars & Full Tilt Poker Shut Down - No USA Players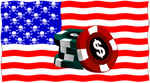 PokerStars, Full Tilt, Absolute Poker and Ultimate Bet No Longer Open to U.S. Players
Bad news for American online poker players: four of the biggest US-facing poker sites have shut their doors to US players, as of April 15, 2011. The four poker sites shut down include; Pokerstars.com, Full Tilt Poker, AbsolutePoker.com and Ultimate Bet. These four poker sites shut down services without any advance notice or warnings to players.
There are still a handful of legitimate US poker sites that players can choose from if you're looking for a new home. Below you will find a list of the top online poker sites still accepting US players.
Update - PokerStars and Full Tilt Poker have stopped accepting ALL USA Players. American players can still play poker online at any one of the poker sites listed below.

Why is Full Tilt Poker and Pokerstars.com Not Accepting USA Players
This closure of the largest poker sites comes after the FBI and the U.S. District Attorney in Manhattan filed money laundering, wire fraud, and illegal gambling charges against the sites' owners. Confusion abounds among poker players, as the events of "black Friday" unfold. It all began with the FBI seizing four domain names: pokerstars.com, FullTilt.com, ub.com and absolutepoker.com. Users attempting to access these sites early Friday saw not poker content, but the FBI logo and a warning of seizure instead. Early speculators claimed that the sites were hacked, however it has since been confirmed that the seizures are legitimate. The domain names now resolve to a server in Washington.
Soon after the domain confiscations, the software at Pokerstars and Full Tilt Poker stopped accepting US players at the tables. Currently any player whose account is linked to a U.S. address will not be able to play real money games. If you're still one of the few able to play on Pokerstars.com, it won't be long before your account is blocked from accessing the games. The domains have been seized and the poker rooms have clearly stated they will no longer accept bets from USA players.
Is PokerStars and Full Tilt Poker Closing for USA Players a Joke?
Unfortunately not. The Manhattan U.S. Attorney sent out a press release confirming the charges against the owners and individuals involved in payment processing for Absolute Poker, Ultimate Bet, Full Tilt Poker and Poker Stars. Indicted are John Campos, Chad Elie, Ira Rubin, Bradley Franzen, Ryan Lang, Paul Tate, Nelson Burtnick, Brent Beckley, Scott Tom, Raymont Bitar, and Isai Scheinberg. The defendants are charged variously with five offenses: conspiracy to violate unlawful internet gambling enforcement act (UIGEA), violation of unlawful internet gambling enforcement act, operation of illegal gambling business, conspiracy to commit bank fraud and wire fraud, and money laundering conspiracy.
The U.S. Government's interest in taking down U.S.-facing poker sites is not new. The DOJ has been after online gambling payment processors for years since the UIGEA was passed in 2006. It is estimated that thus far, over 75 payment processors serving the poker market have been shut down by the FBI. This has significantly impeded the online poker sites' ability to process deposits and withdrawals for American players.
Problems Cashing Out at PokerStars, Full Tilt Poker, Absolute Poker and Ultimate Bet
As yet, there is no definitive answer regarding the status of cashouts at PokerStars, Full Tilt and Cereus (AP/UB). Some players have claimed successful wire transfers from PokerStars were made after the domain seizures. Other players claim that cashout requests have been denied. And more claim that Full Tilt poker has blocked access to the withdrawal section of the cashier entirely.
Even if American players are able to successfully cash out of their poker accounts, it's unclear as to whether or not the poker sites have processors lined up willing to facilitate the transactions. It's possible that paper checks will be linked to seized or frozen bank accounts, thus rendering 'successful' cashouts unsuccessful after all.
Whatever the case, it's clear that Americans shouldn't hope for full functionality at PokerStars, Full Tilt, Absolute Poker or Ultimate Bet in the near future. Only time will tell the fate of the Big 4 in the United States.
You are here > Internet Poker > USA Poker Sites > Full Tilt Poker / PokerStars Close to USA Players