Best CDN Dollar Poker Sites
Which Poker Sites Accept CDN Dollar Deposits & Spread Games in CDN?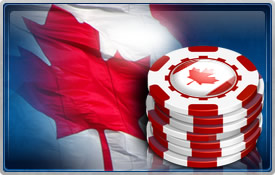 Canadian online poker players searching for information about poker sites that deal with Canadian dollars (CDN or CAD) will, unfortunately, come across quite a bit of misinformation on the topic.  With so many sites offering incomplete or downright incorrect details on using CDN at online poker rooms, we decided to craft this quick guide to online poker for those using the Canadian dollar.
No Major Online Poker Rooms Offer Games in CDN Dollars
While many affiliate sites might claim (or at least imply) to the contrary, no major online poker sites that we are aware of offer games conducted or played in Canadian dollars.  International rooms tend to offer US dollar play, play in euros and sometimes pounds - but not in CDN.  The reason why isn't totally clear, but must come down to some combination of a lack of demand on the part of players and the relative comfort Canadian players feel with currencies such as USD and EUR.  Whatever the ultimate reason, the state of affairs remains the same:  There are no major online poker sites that let you play poker in Canadian dollars.

Most Poker Sites Do Accept Deposits in CDN and Then Convert Funds
That's not to say you can't play at an online poker room with your Canadian dollars - only that the games you'll play will employ a different currency.  Online poker rooms are more than happy to accept your deposit (and to let you cash out) using CDN.
The process varies from room to room, but generally works one of two ways: Either your funds are converted to the primary currency of the room immediately when you deposit (and then converted back at the time of withdrawal) or your funds are stored in your account in CDN and converted to the currency of the room when you buy in to a tournament or sit in a cash game.
Exchange Policies are Your Primary Concern
In an ideal world, all online poker rooms would be completely transparent about their currency exchange policies and never seek to profit from the player when facilitating the exchange.  Unfortunately, the online poker industry exists in something a bit short of an ideal world, and Canadian players - or any players depositing in a currency other than the room's primary currency - need to protect themselves as a result.  If a poker room doesn't clearly spell out their policies and any fees associated with exchanges, you should check with support.  If you don't like the answers you get there (or if they can't point you to something in writing), move on to the next room. 
Canadian players have more or less the full range of online poker rooms available when making the choice to play Internet poker, so there's no reason they should settle for any uncertainty - or any fees - associated with the currency exchange process at an online poker room.  Beating the games is already hard enough - there's absolutely no need to make profiting from poker more difficult on top of that by choosing a room that charges you to use CDN.
Best Sites for CDN Poker Deposits
When we talk about clear terms and conditions associated with currency exchange, we are basically talking about exactly the sort of policy bet365 poker has.  The currency exchange policy at bet365 Poker reads (in part): "The Currency exchange rate is set at the moment of transaction and remains fixed until the tournament ends or the player leaves the table. Unlike other poker rooms, bet365 does not charge commission on currency exchanges."
That's exactly what you want to hear when you ask an online poker room about their currency exchange policy.  It also doesn't hurt that bet365 accepts over a dozen popular CAD / CDN deposit methods, including Skrill, credit cards, Instadebit, Click2Pay, UKash, and bank transfer.
If you're not interested in playing at bet365 Poker, perhaps you'll find more to like about the second room on our list of top poker rooms for Canadian dollar deposits: Full Tilt Poker.  With perhaps the strongest reputation for rapid and secure banking in the industry, Full Tilt Poker makes depositing in CDN a snap.  What's more, the room also boasts an exchange policy that is quite clear and favorable to those choosing to make a deposit in CDN: "Full Tilt Poker will use Reuters' mid-market rate without any adjustments for any deposits or cashouts that are performed in a supported account currency (US Dollars, Euro, British Pounds or Canadian Dollars)."
Like bet365, Full Tilt Poker offers the complete suite of popular deposit and withdrawal options for players using Canadian currency.  With the fair terms, clear policies and varied banking methods available at both rooms, it's tough for Canadian players to go wrong whichever they choose.