Best High Stakes Poker Sites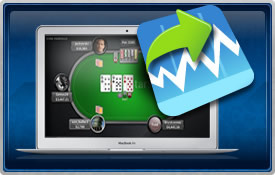 What Exactly are High Stakes Games?
There is no official standard for what constitutes a high stakes poker game (as opposed to micro stakes, low stakes or medium stakes).  Obviously, the concept of "high stakes" is highly relative to the amount of money you have to play with - for many poker fans, a no limit game with a max buy in of $500 would be a fairly high stakes game.
With that said, there's a general agreement that high stakes no limit games start somewhere around the 25/50 blind level and involve stack sizes in the thousands of dollars - if not tens of thousands - as opposed to the hundreds.
Doesn't Every Online Poker Room Have High Stakes?
While every online poker room might offer high stakes tables, that doesn't mean that they regularly play host to high stakes games.  The customer base for high stakes games online is relatively small, and action tends to pool at a handful of sites as a result.  To put it another way:  There really isn't enough money floating around in the online poker ecosystem to support ongoing high stakes games at every room - not even every major room. High stakes games tend to materialize wherever the softest action is, so games can move rapidly from one site to the next with little notice.
Below you will find a list of the best poker sites with high stakes games. This list includes high stakes tournaments as well as high stakes cash games.


A Brief History of High Stakes Online Poker
High stakes poker is actually a relatively recent phenomenon in the world of online poker.  Major sites like Party Poker restricted the size of games for several years, limiting players to 50NL and then eventually 100NL.  However, it eventually became clear that there was a real demand for big games - and that big games had the beneficial side effect of drawing big crowds to the virtual rail - and all major rooms eventually expanded to offer at least a handful of high stakes tables.
For many years, Full Tilt Poker was the center of the high stakes online poker universe.  Young players such as Tom Dwan and Phil Galfond built their reputations - and their bankrolls - at games that grew larger and larger, with six-figure pots becoming the norm rather than the exception.  No limit hold'em was the original game of choice for these nosebleed contests, but Pot Limit Omaha gradually took the crown away from no limit as players sought out a game with even more gamble and action than a mere two hole cards could provide.
The high stakes action began a slow shift to PokerStars in 2010, but big games on all sites slowed dramatically after Black Friday caused both Stars and Full Tilt close their doors to US players (and the high stakes games they often drove) in April of 2011.
Today, high stakes games have mounted a slow but steady comeback.  Players can now find games at the lower end of the high stakes buy in spectrum at any number of rooms, and the highest stakes are also running with increasing regularity at select online poker sites.
The Best Overall Online Poker Room for High Stakes Poker
PokerStars was already hot on Full Tilt Poker's heels in the high stakes chase, and they've easily slid into the top spot in Full Tilt's absence.  PokerStars hosts multiple tables of 25/50 blind and above games for both No Limit Holdem and Pot Limit Omaha and also runs a fairly regular high stakes mixed game.
In terms of pure volume of high stakes play, it's tough to top PokerStars.  The company also has an excellent reputation for security, a primary concern for those wagering tens of thousands of dollars on single hands - or even single bets.  Finally, as their ability to rapidly cashout US players in the wake of Black Friday proved, PokerStars has efficient and effective systems for managing and disbursing player funds - a critical component of supporting a high stakes poker ecosystem.
The Top High Stakes Room for US Players
As US players are unable to access the top overall choice for high stakes poker games (PokerStars), they'll have to make due with our pick for the best US-friendly high stakes poker venue: Lock Poker.
While Lock can't match PokerStars, it does outshine all other US-facing online poker options.  Medium-to-high-stakes poker games run daily at peak times for both PLO and NLHE, giving Lock an edge over rooms like Cake Poker that see only sporadic high stakes traffic.  It should be noted, however, the the online poker situation in the US is constantly evolving and any one of a number of events could cause the relatively small pool of overall high stakes games to shift to another site.
The Best High Stakes Room for UK Poker Players
While PokerStars is certainly the best overall room for high stakes online poker games, poker players from the UK may want to use a site that can provide them with more than just poker or just the familiarity and security that come with playing at a UK-based poker room. 
For those players, the best UK-focused option for high stakes poker games is bet365 Poker.  With a number of high stakes PLO and No Limit games running more or less around the clock thanks to bet365's association with the popular iPoker Network, bet365 has a pretty packed high stakes buffet that should appeal to both railbirds and players.  UK players will also appreciate the full range of wagering products offered by bet365 in addition to poker, and the ease of depositing and withdrawing from bet365 via over two dozen popular banking methods.