Real Money Poker Sites
Reviewing the top internet poker sites offering real money cash games and tournaments.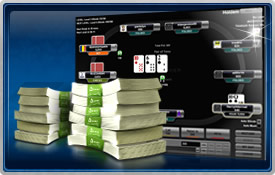 It seems like a simple enough task, but those who are just getting started will quickly figure out that there's really nothing simple about finding the top real money poker room.  Straight away, it becomes difficult to tell one room for the next, to discern the relationships between rooms and to navigate the morass of conflicting information regarding which real money poker site is the best (or even what "the best" means).
We're here to simplify the process with a collection of core facts, quick strategies and quality starting points for your search.  After just a few paragraphs, you'll have a much better ability to judge for yourself which online poker site offering real money play is the top pick for you.
Relatively Few Major Real Money Poker Rooms
Here's a fact that will make your search infinitely easier: There are actually only a couple dozen major online poker rooms (the list could be safely cropped for most players at about 15).  That fact might surprise people who have researched online poker and come across what seems like hundreds upon hundreds of rooms.  So which is it?  The answer, interestingly, is both.  That's thanks to the unique nature of the online poker industry, where most rooms are actually part of shared networks.

What is an Online Poker Network?
It's a pretty simple concept:  Imagine a poker room with lots of separate doors that lead into the room.  Each door is a different color, and each might look a bit different, but they all lead players into one shared room.  That's how an online poker network works; each website is a separate door into the same central poker rooms. 
In this way, one network can actually be home to dozens and dozens of rooms that appear to be unique.  Generally, the rooms on a network will share all of the same games and the same promotions, so playing at one room is more or less the same as playing at the next.  Realizing this makes it much, much easier to pare down the field of potential poker rooms.
How to Further Narrow the List of Potential Poker Sites
There are a few simple tests you can use to further shrink your list of potential rooms.  One test that we love is asking a simple question of customer support and seeing how long it takes you to get a response (and how happy you are with the response).  If it takes more than 24 hours or you don't like what you hear, then cross that room off of the list.   Another is to download their software and try out the play money client for a few hands.  Many times this will reveal something about the software or interface that just doesn't click with what you're looking for.  Whatever test you use, the basic idea is the same: Interact with the room a bit before making the decision to deposit.
Top Real Money Poker Site: Overall
If you've read through any of our other rankings like customer support, security or game variety, you probably won't be a bit surprised to read that we suggest PokerStars as the best starting point for players just getting into real money poker online.  The room simply offers the greatest amount of options with the lowest amount of hassle or worry, a combination that lets you focus on playing poker.
We're not saying PokerStars is the only poker room you'll ever want to play at, but it's a great choice for your first real money online poker experience.
Premier Real Money Online Poker for UK Players
bet365 gets our vote on this score for one simple reason:  The site offers poker from the same wallet you'll also be able to use for sports betting.  With the massive in-play markets available at bet365 - the largest in the world by total wagering volume - and the lack of a competing offering at PokerStars, bet365 becomes the best pick for punters who want to keep their online action all in one place.
Best Option for US-Friendly Real Money Poker
Options for US players are always shifting, but the consensus at the moment appears to be that Carbon Poker is the most attractive option for players new to real money poker online.  Making deposits and withdrawals is a relatively easy process at Carbon, and we've given the room high marks on other points such as traffic, rake and tournament action. 
It should be noted, however, that the gap between Carbon and competing sites isn't as wide as the gap between PokerStars and their competitors, so any of the US-facing rooms profiled on our site are likely to be viable options for new online poker players.