Safest Online Poker Sites
Which poker sites are the safest and most secure?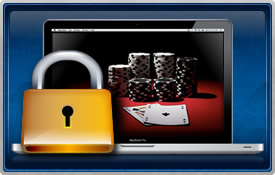 Players looking to get in a bit of live poker would probably avoid rooms that were dark, derelict or located in the wrong part of town.  Players looking to get in a bit of online poker would likely choose the same, but at first glance it can be more difficult to assess the security of an online poker room than a live one.  To help bridge that gap, we're going to explore the topic of online poker safety and security, with a focus on providing readers with simple tools that will help them to have a more enjoyable - and risk-free - Internet poker experience.
Two Key Aspects: Game Security and Banking Security
When we talk about security with regards to online poker, we're really talking about two separate (but related) topics.  The first is game security, which is concerned with things like: The method the room uses to transmit data about your hand from the server to your computer, the resources the room has in place to prevent players from cheating or otherwise colluding and the integrity of the game system itself. 
The second is banking security, which is more concerned with how your funds and your financial information are handled by the room.  Rooms can succeed at one and fail at another, so you need to consider both aspects of a secure online poker experience when researching rooms.

Researching Poker Room Security Can Be Frustrating
As we said at the outset, figuring out just how safe an online poker room is can be difficult at best, and exasperating at worst.  After all, it's much easier to make an online poker room "look " secure than it is to make an actual physical card room look as such.  Fortunately, you don't need to become an expert to evaluate room security; in fact, following a few simple tips will dramatically increase your chances of playing online poker in a secure environment. If you are looking for a legal poker room, we suggest you visit this site - http://www.legaluspokersites.com as it reviews US gambling laws by state..  
Trust Your Instincts When it Comes to Online Poker Security: If you visit a room and something about it just seems off, trust that feeling.  If you're signing up and something about the process feels second-rate or cheap, don't ignore those reactions.  There are dozens and dozens of online poker options available, so there is absolutely no reason you should settle for a room that just doesn't sit right with you.
See What Resources Rooms Provide:  A handful of rooms provide you with some additional resources to make the process of playing online poker more secure.  PokerStars, for example, offers a few options for two-step login authentication,  a process that makes it much more difficult for someone else to gain access to your account.
Take Responsibility for Security: No room can protect you from yourself.  If you have weak passwords and don't guard your email account, the chances that you'll have a bad experience increase dramatically.  It's important to remember that there are no measures a room can take to truly secure your account if you're not willing to be an active participant in the process.
Limit Your Risk: If you have lingering doubts about online poker security, take steps to limit your risk.  Deposit very small amounts using a credit card or some other method of payment that gives you a way of reversing the transaction if there's a problem.  If you must deposit cash, consider a separate bank account for poker activity.  While these steps involve a bit of hassle upfront, they can pay serious dividends down the line by significantly limiting the damage you'll take if catastrophe strikes.
Safest Overall Online Poker Room: 888
888 takes this title for a few reasons.  The first is the long and unblemished reputation of the room for both game security and banking security.  The second is the serious approach 888 obviously takes to security, whether it's providing players with RSA tokens on request or working with the community to ferret out cheaters and colluders.
This isn't to say that other online poker rooms aren't secure - rooms like Pokerstars and Bwin Poker both have sterling reputations on this matter - but rather to make the point that 888 simply goes above and beyond when it comes to ensuring the safest possible online poker environment.
Which Online Poker Sites Are Safe for US Players
Our analysis suggests that Bovada holds a small edge over other US-facing rooms when it comes to online poker security.  The room has the longest history of uninterrupted cashouts among US online poker rooms, and offers an interesting approach to game security via the anonymous tables feature that is exclusive to Bovada.  While some argue that such a feature also facilitates some forms of cheating, the general consensus seems to be that more good than harm comes out of the masking of player identities.  On the strength of those two characteristics, Bovada is our pick when it comes to selecting the most secure US-facing poker room online.