Best iPhone / iPad Real Money Poker Apps
Which online poker sites work on the iPhone or iPad?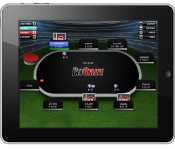 There's no doubt that Apple devices like the iPhone and the iPad have been a major part of the explosive growth of mobile over the last few years.  Driving the use of those devices, in turn, has been a slew of apps - some fun, some clever, some very useful.  While there really does seem to be an app for everything in the App Store, one category that hasn't been well-represented is real-money online poker.  Thanks to some of the biggest names in online poker, however, that trend is finally being reversed - albeit slowly.
For owners of iPads and iPhones that are looking for safe and reliable ways to play poker for real money, we present this quick resource that covers a brief history of poker apps for Apple devices, the challenges such apps face and - last but not least - our selection for the best app for real money poker on the iPhone / iPad.


Below Are The Only USA Real Money Casinos for iPad - There Are No Poker Sites for USA Players That Work on iPhone / iPad
Poker Has Been Slower to iPhones and iPads Than Casinos
Mobile casinos are somewhat common in the App Store, with dozens of options from major brands available to players in regulated markets.  This has, in fact, been more or less the case for years, but it's only recently that a smattering of poker apps appeared alongside the casino offerings. 
The major reason for this disparity, of course, is that a slot machine requires only one player and one connection to operate; a poker table requires several players and several connections.  Elevated concerns regarding security also make poker a less appealing prospect for app development, along with the lower margins casinos tend to earn on poker players as opposed to table games players. 
There's also something just inherently more difficult about translating the online poker experience from the large screen of a laptop or desktop down to the smaller screen of an iPad or iPhone.  While slots and games like blackjack compress fairly smoothly, poker has more player choices - more moving parts overall - than the typical casino game.  Getting the pace of the action to translate is also a major challenge on a smaller screen; in particular, allowing players to participate on multiple tables at once while using a mobile device like the iPhone has proven to be a tough nut for developers to crack.
For these major reasons - and a host of associated issues - the development of apps that let you play real money poker on your iPad have simply lagged behind the development of casino apps for the Apple mobile platform
Fast-Fold Poker the Future of iPad / iPhone Poker Sites
While fast-fold doesn't solve all of the above problems, it does simplify things dramatically for developers and players when it comes to an iPhone / iPad-compatible poker application.  Fast-fold - a version of a poker room where all players exist in a single pool and then are collected into randomly assigned tables for each hand - allows players to get in a good deal of action while just playing one table (or rather, one screen) and makes choosing and entering games on a device like the iPhone a much easier process.  In short, fast-fold clients like Zoom Poker (PokerStars) are ideal for mobile play because they reduce or eliminate so much of the friction between players and playing that plagued previous mobile poker apps.
Top Real Money Poker Site for iPhone and iPad: PokerStars
Given the praise we just heaped on Zoom Poker, it should make sense that PokerStars would be our pick for the best real-money poker experience compatible with the iPhone and iPad.  Thanks largely to Zoom, PokerStars has crafted a mobile poker experience quite close to the one players have using the desktop version of the software.  It also doesn't hurt PokerStars that so few major online poker rooms have developed native apps for the iPad, and that the room has (by a wide margin) the highest levels of traffic and game variety of any major online poker room.
If you're looking for an iPad/ iPhone compatible online poker room where you can play for real money, PokerStars is your clear pick.
Recent Addition to App Store: 888 Poker
With so few real-money poker options available in the App Store, it's worth mentioning 888 Poker's recent launch of an iPad version of their online poker room.  888 doesn't have a fast-fold client, but is otherwise winning solid reviews for their app, which supports both cash game and SNG play.  No matter how excellent the PokerStars app may be, it's always nice to have variety as an online poker player - so the next time you fire up your iPhone or iPad, visit the app store and install the 888 Poker app.