Best Mobile Poker Sites
Which online poker sites are compatible with my mobile device?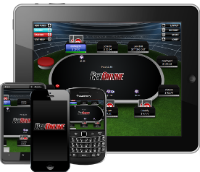 People have already shown that there's really no limit to what they're willing to do on their mobile.  Banking, dating, gaming and gambling are all quite popular, but playing real money poker on a mobile device is still a relatively uncommon thing to do. That state of affairs, however, is changing rapidly, with more and more individuals looking to install an app that will let them battle players from around the world at a few hands of cards while they wait for a friend to arrive.  If you are among their ranks, we've got you covered - read on for a quick history of mobile online poker, a survey of the status quo for real money mobile poker and our picks for the best mobile poker experience currently available to online poker players.


Early Mobile Online Poker Experiments Were Flops
While some major online poker sites have yet to even release a mobile version, the genre is not exactly a new one.  Real-money mobile poker has been available for over five years, but simply hasn't captured the attention of a wider audience until the last year or so.
What was it about the early attempts at poker for a mobile device that led them to fail?  Part of the fault certainly lies with the phones of the time that lacked the fast processors and large, vivid screens that are necessary to make playing poker on a mobile phone an enjoyable (or even viable) experience.  Part of the fault certainly lies with the rooms as well - expecting players to be interested in a playing a single table or two of poker on what amounted to a shrunk-down version of the main poker room software was certainly optimistic, to say the least.
Rush Poker App Showed Promise of Fast-Fold
The introduction of Rush Poker by Full Tilt, and the subsequent rollout of the mobile version of Rush, showed poker players how good mobile poker really could be.  If you've never heard of Rush or fast-fold poker, it works like this:  Players all exist in a "pool" instead of seats at individual tables.  The software then makes new tables every hand for all players in the pool, with seats randomly assigned.  When you fold your hand, you leave the table, go back into the pool, and are immediately taken to a new hand at a new table. 
It's hard to overstate just how revolutionary of an idea Rush Poker was, especially for mobile poker; in a single stroke, the format erased the primary drawback of mobile poker and ignited a broader industry interest in developing fast-fold clients and the mobile versions of those clients that naturally followed.
What Concerns Should Players Have About Real Money Mobile Poker?
While it may seem like just a smaller version of regular online poker, there are some unique concerns that accompany the growth of mobile poker for real money.  Players will now have to guard themselves against a number of threats, including malicious apps that appear to be related to poker rooms and possible security leaks that occur when playing using an unsecured connection.
Until the segment is more mature and the threats better (and more widely) understood, players would be wise to stick with only the most established, trusted and recognized brands.  Additionally, players should talk at least briefly with customer support about the best practices for playing real money poker to ensure that they're not taking any unnecessary risks by playing poker on their mobile device.
Best Mobile Poker Experience: PokerStars
Due to the concerns listed above, PokerStars easily nabs the top spot for best mobile online poker experience.  Even if security was not a major concern, PokerStars would still likely top the list thanks to a number of advantages.  Chief among them: Zoom Poker, the popular fast-fold client at PokerStars that puts the PokerStars mobile experience head and shoulders above the competition.  Other key factors:  The extensive game selection PokerStars offers to mobile players and the broad compatibility (Android, iPhone and iPad compatible) PokerStars Mobile provides.
For those reasons of security, playability and compatibility, PokerStars should be your go-to choice for real money mobile poker play.