Online Poker Sites Accepting US players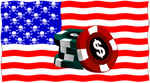 In October of 2006, the Bush Administration passed the UIGEA bill, which has influenced how Americans play poker online today. This bill led to a large number of poker sites like Party Poker to no longer allow players from the USA to play and deposit. However, this bill did not make it illegal for Americans to play poker online at these US poker sites. In fact, there are more reputable and legit US poker sites for players than ever before.The US sites listed below don't have the volume of players that Pokerstars and Party do, but they do offer the following benefits;
Great bonuses - In most cases you can expect a match bonus up to 150% of your deposit.
Fast payouts - BetOnline and Lock Poker have the fastest processing for cash outs.
Accepts US credit cards / debit cards - All of the USA real money poker rooms accept US visa cards.
Excellent customer support - All of the sites offer live chat and / or toll free phone support to the USA
Good variety of real money poker games - Regular guarantees, daily freerolls and an adbundance of Hold'em cash games.
I highly recommend you try BetOnline Poker as they have the best credit card acceptance rates and you can deposit with echecks. BetOnline Poker has some incredibly loose cash games and offers great support.

What Poker Sites Accept USA Players?
After the 2006 UIGEA was signed under the Port-Security Act, most of the publicly traded companies closed their doors to the US market, such as PartyPoker, Ladbrokes and Betfair. This is why US players have such a difficult time in finding a variety of poker rooms and networks to play on. Although the European brands shut out the US market, the privately held companies continued to accept US poker players and new brands surfaced. Current poker sites accepting US players include; Cake Poker Network or Merge Gaming Network. Unfortunately, due to a move by the DOJ, Pokerstars and Full Tilt Poker are no longer accepting US players. The online poker rooms shut down in April 2011. You can find our list of the top real money poker sites accepting US players above, along with bonuses available to new players and software features.
Funding US Poker Accounts
After the bill passed in 2006, some of the top ewallet service provides also pulled out of the US market, including NETeller, which at one time was the largest money transfer site online. Today, players have multiple options available to them to deposit or withdraw from a US poker room. Some of the major poker sites, including that of SportsBook Poker and Players Only, accept credit cards while others, like Pokerstars, support ewallets. If you do experience difficulty in funding your poker account with your credit card or your poker deposit is denied, an ewallet or alternative payment arrangement is an another option. eWallets are just as safe as your credit card and in some cases more convenient as company's like eWalletXpres or Quicktender will accept wire transfers, bank transfers, eCheck, and credit card payments. Although you're Visa or Amex Card deposit may be rejected, you can use that same card to fund your ewallet account and transfer the money to your player account. Although payment methods are limited for American players, withdrawals are still a priority. All of the US poker sites on this page guarantee you your funds and have an excellent record for making sure payments are prompt.
Is Online Poker Legal for US Players?
There is no law specifically stating that online poker is illegal or legal for American players. The 2006 Unlawful Internet Gambling Enforcement Act was written to stop transactions to and from US poker players to online poker sites. It does not have any negative impact to US players other than making it difficult to find a poker site that accepts USA players and difficulty funding (depositing to and withdrawing from) their online accounts . The UIGEA did not define what unlawful internet gambling is, but specifically targeted the financial institutions and ewallets, as well as the poker and casino rooms. The Department of the Treasury was required to draft regulations that would lead to blocking gambling transactions to and from American banks and financial institutions. The deadline for the regulations was originally December 1, 2009. Three days prior to the deadline, Department of the Treasury Secretary Timothy F. Geithner and Federal Reserve Chairman Ben S. Bernanke will announced a six-month delay.
For the most part, gambling legislation is left up to each individual state. While one state may completely block gambling and online poker (Kentucky/Louisiana), another may allow it like California, where SB1485 was introduced to legalize online poker in California. Federal laws are in place, however most of the federal laws are written to support the state laws. United States online poker players need to check their local legislation as to whether they are subject to any pre-existing state laws.
Federal Bills and Regulation for US Poker Sites
Federal bills introduced to license and regulate online poker for US players are in the works. Three of the bills currently under review include; Barney Frank's H.R. 2267, The Internet Gambling Regulation, Consumer Protection and Enforcement Act, Jim McDermott's H.R. 2268: Internet Gambling Regulation and Tax Enforcement Act of 2009, and Robert Menendez's S.1597 Internet Poker and Game of Skill Regulation, Consumer Protection, and Enforcement Act of 2009. The difference between the three bills is that while the Barney Frank bill will license and regulate online casinos and us poker rooms, the Menendez bill would only license and regulate games of skill. The McDermott bill would work with the Frank bill as a way to tax licensed poker rooms who provide service to American players.
None of the bills introduced will overturn the UIGEA, but they will exclude licensed and legal sites from the UIGEA. What this means is that while the UIGEA was set up as a means to block gambling transactions to and from the poker rooms, if a USA poker site was licensed under a federal license, that site will be exempt from the UIGEA. Unlicensed poker rooms are a completely different matter.
State Laws with US Online Poker
If you want information on each individual state, have a look at the pages below. Each page provides a detailed overview of the current laws surrounding gambling in general. This includes whether it is legal or not to gamble / play poker online in the United States.
List Of Poker Rooms & Networks That DO NOT Accept US Poker Players
PKR Poker - PKR Poker (Independent)
Betfair Poker - Befair Poker (Independent)
SkyPoker - SkyPoker (Independent)
Grand Virtual - Everest Poker
iPoker - Kiwi Poker, Poker 770, William Hill, Prestige Poker, Tong G, CentreBet, PaddyPower, BlackPool Club, Poker Plex, Windows Poker, VC Poker, BetFred.com, Titan Poker, Poker Ocean, BlueSQ, Bet365, ChiliPoker, Diamond Club, Expect, CDPoker, Noble Poker, Fair Poker, CelebPoker, SunPoker.
OnGame Network - BestPoker, BetSafe.com, Bet24, Betsson, Bwin, CasinoEuro, CherryCasino, Coral, EuroBet, EuroSport, Hollywood Poker, PrimePoker.com, RedKings, ScandicBookmakers.com, SmartLive Poker, TowerGaming.com
PartyGaming - Empire Poker, Express Poker, Full House Poker, MultiPoker, PartyPoker.
888 Gaming - 888 Poker, Lucky Ace Poker, LittlewoodsPoker
Microgaming (Prima) Network - Purple Lounge, Royal Vegas Poker, Gnuf.com, PokerTime, NordicBet Poker, Crazy Poker, Ladbrokes Poker, Betway, Wild Jack Poker, Unibet, Roxy Poker, 32Red Poker, Cool Hand Poker, 24Poker, Mansion88, Carlos Poker
Entraction Network - 24Hr Poker, Devil Fish Poker, NoIQ Poker
Boss Media - Virgin Poker, Poker Heaven, CasinoClub, Svenska Spel, Sportingbet, FortunePoker, InterPoker, Paradise Poker
Everleaf Poker - Poker4Ever, Minted Poker, Raider Poker, Red Cherry Poker.
Action Poker Network - Tiger Gaming, Action Poker, PayNoRake
Misc. US Poker Related News
---
Internet Poker Sites That Accept Players From The USA
August 2009 - From now on, please visit our Poker Affairs News Section for all the latest news.
Im hearing that EcoCard will be pulling out from the Internet Poker US market although they are going to do what Click2pay did, which is not pull out completly, they will just offer their service to existing EcoCard holders and not accept any new ones.
"Im disappointed by this really as i had high hopes for EcoCard, although it was always used more at online casinos, then poker rooms."
Well, nothing has happened so far, from what i have heard the regulations might be released later this month, however IMEGA group might put a delay to the enforcment for several months, so i guess we just wait and see. For the top PartyPoker bonus codes, check out this tightpoker.com page for Partypoker bonus code for the top Party bonuses.
"They always say no news is good news."
Well tomorrow is the day of reckoning, its the day UIGEA is to be enforced and the regulations announced (it will be 270 days since UIGEA was signed into law).
"Lets just hope the regulations dont come out tomorrow and they annouce a delay for at least several months due to the complexities of card processing filtering, the card processors fighting back, the IMEGA lawsuite and the Barney Frank bill."
Thought this might be of interest to some that more and more online gambling sites are stopping Players from Canada gambling online since Neteller stopped accepting their transactions - I received an email from casino blasters group who anounced they will no longer take Canadian players, their casinos include Golden Palace, OnlineCasino.com, GrandOnlineCasino, plus many more.
"I dont like it when more and more sites reject players even though their is no law against it."
Neteller has updated there FAQ page for USA Poker Members who currently have there money tied up. www.content.neteller.com/content/en/member_businessupdate_us.htm
Poker.com accounces a new payment / withdrawal option "PINdebit" .
"Its always good when the US Poker Sites have more deposit / withdrawal options like American Express Casino Sites ."
Fantastic Neteller News for US Residents.....NETeller said today in a statement "U.S. and Canadian Poker Players will be able to access their NETeller accounts online for a certain time and make a request for their funds. No interest on account balances will be paid".
"Great news for everyone who had their money tied up in neteller, im hearning it could be as soon as this month (june) also applies to Canadian Poker Players."
Also another reminder that you only have 4 more days to collect 300 Points to qualify for our UNIQUE WSOP freeroll for our readers.
"This really is a fantastic chance to qualify for the World Series of Poker for FREE"
Well, just thought i would remind everyone that theres only around 7 weeks left untill UIGEA has to be enforced :( Hopefully it will get delayed for a few months, but its only wishfull thinking. Hopefully PokerStars will remain USA Accepted
"UIGEA will make it illegal for banks and financial processors to process payments to online gambling sites (thats not taxed in the US) - This law does not effect players - just the financial institutions"
Dream Poker emailed us to say they are no longer a USA Friendly Poker Site (they used to allow the 40 states which do not have laws making it illegal to gamble online.)
"Its always a shame when sites drop US players, although Dream Poker were never really that big"
It seems Full Tilt Poker and stopped / suspended MyWebATM as a depositing option - we didnt receive an email from full tilt, but one of our readers informed that this option was no longer in the cashier.
"I have a feeling this is only temporary as i had a few emails from readers that they have had some problems with MyWebATM, so i guess Full Tilt have temp stopped them untill these problems are resolved"
Poker.com have added ePassporte as a depositing Method for US Poker site players.
"This is good as alot of people have an ePassporte account now and Poker.com did lack in the depositing methods for US Poker Sites"
Neteller have said they are not taking anymore customers from Canadian Players or Turkey players and in April they will not be able to use their account for online gambling related activities.
"I find this a very odd move for neteller as all the major online brands like partypoker, williamhill, ladbrokes, 888.com etc are still taking bets from players in Canada and Turkey. "
has told me they are offering "Instant Check" deposit method also known as eChecks - visit our Online Casinos For USA Players.
"Well I love Bovada, this is just one of the reasons why, they work hard to provide the best service possible, such as being THE ONLY gaming company who accepts USA Internet Poker players to have this depositing method, which is my favourite to use"