New Mexico Poker - New Mexico Poker Laws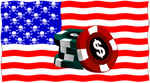 Is Poker Legal In New Mexico?
New Mexico is a state that has been changing, in respect to gambling, over the last couple of decades. Not long ago, New Mexicans were practically forced to go to Las Vegas to gamble, but today this state is home to a burgeoning casino industry. This is largely due to changes in the gambling laws that used to be much more restrictive. Not all gambling is legal now though, and that applies to poker as well. Read on as we go through the law books to learn how to play poker legally in New Mexico.
Learn which poker sites accept players from the state of New Mexico by reading our USA online poker guide.

Are Home Poker Games Legal in New Mexico?
Home poker is a touchy issue in New Mexico. On the one hand, you have a section (30-19-3) that deals with the idea of commercial gambling. As long as you aren't collecting fees or raking the pot, you are not committing the crime of "commercial gambling". However, this doesn't mean that non-commercial gambling is necessarily legal. It would depend on how the courts interpret the law, but as of yet we don't have any really good case law to fall back on.
In the end of the day, the penal code tells us that gambling is a petty misdemeanor, and it "consists of making a bet or entering or remaining in a gambling place with intent to make a bet, to participate in a lottery or to play a gambling device…" This seems to imply that all gambling is illegal, and we aren't explicitly told that non-commercial gambling is an exception. To proceed cautiously, you may want to contact your local law enforcement agency for further information.
Do New Mexican Casinos Offer Poker?
New Mexico might not have perfectly clear laws regarding home games, but their stance on organized gambling couldn't be plainer. Yes, they have lots of casinos, and yes these casinos offer poker. In New Mexico, thirteen Native American tribes operate fourteen full-fledged casinos. A couple decades ago these were largely horse racing tracks, but times have changed.
The casinos that are currently located within New Mexico are massive resorts with every type of gambling under the sun. From horse tracks to slots to table games, it is all available. When it comes to poker, these casinos are allowed to offer games at all betting limits, and they are free to permit any of the popular variety of poker games that we've all come to love.
Is It Legal To Play Poker Online In New Mexico?
New Mexico made quite a few changes to their gambling laws in the second half of the 1990's, but they didn't have the foresight to touch on the topic of online gambling. Really, the fact that they have remained silent on the topic is not rare, and it is not surprising.
For a state to truly put an end to online poker, they would need a great deal of new technology, and they would have to broach some sensitive privacy issues. New Mexico is doing quite well with their current gambling laws, it would be slightly odd for them to come back now and make changes with online poker in mind.