North Carolina Poker - Poker Laws in North Carolina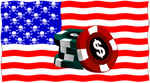 Poker Laws in North Carolina
North Carolina's poker laws fall right in the middle of the spectrum. On one hand North Carolina has massive casino resorts that bring gambling to the masses, and on the other hand they've got heavy restrictions on private games. To familiarize yourself with the state's legislation, and make sure you aren't breaking any laws, keep reading.
You can find out which poker sites accept players from North Carolina by reading our USA poker guide.

Are Home Poker Games Legal?
It will depend on the circumstances, but most likely your private home games are illegal. According to § 14-292 of the North Carolina Penal Code, "… any person or organization that operates any game of chance or any person who plays at or bets on any game of chance at which any money, property or other thing of value is bet, whether the same be in stake or not, shall be guilty of a Class 2 misdemeanor."
This section of the law goes on to explain that there are exceptions that can be granted by the state, including the participation in state lotteries and charitable events. Your back-room poker games, however, are not given any special treatment.
The one loophole you can sneak through is the fact that the law only applies to games of chance (including poker) at which money, property or other thing of value is bet. Because of this, you can play poker as long as you aren't making any real money bets. As a side note,  the courts have determined that prizes are strictly forbidden.
According to the deputy chief of the Jacksonville Police Department, Paul Spring, if there is no money on the table, the police cannot make a lawful arrest, and the courts cannot prosecute anyone for gambling. The act of unlawful gambling requires the use of real-value wagers.
Does North Carolina Allow Poker Games In Casinos?
Actually, yes, the beautiful casinos in North Carolina often run full-scale poker rooms. Since home games are practically prohibited, these poker rooms give North Carolinians a great opportunity to play a legitimate game without any risk of legal infringement. Most of these live poker rooms operate nearly twenty-four hours a day, and having a fully-trained, professional dealer definitely beats the average private game.
Is Online Poker Illegal?
The state of North Carolina has not specifically passed any laws against online poker, but if you attempt to own or operate an online poker room, then you'll probably get a knock on the door. Mere players should feel free to play online, but you should understand that there are risks.
Because the United States Federal Government has started to crack down on the banks that help fund online gambling sites, you may have difficulty making transactions. This means slow deposits, and in some cases you may have difficulty withdrawing your winnings. You don't need to worry about getting arrested or fined, but if your bank won't cash the check for your winnings, you may have a pretty serious problem. As of now, most online poker rooms have successfully stayed ahead of the government's efforts, but the tables could turn at any moment.