New Jersey Poker - Poker Laws in New Jersey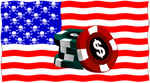 Is it Legal To Play Poker In New Jersey?
New Jersey has pretty consistently been a pro-gambling state. With Atlantic City as the premier east-coast gambling city, the state of New Jersey earns a tremendous amount of revenue from legalized gambling. Even social home poker games are usually legitimate, and online poker players haven't been chased away yet. Overall, New Jersey is one of the best states for avid poker players.
Find out where to play poker online from the state of New Jersey. Check out a complete list of up to date USA online poker sites.

Does the Law Say Anything About Online Poker?
No, the New Jersey Legislature has tried to define and outlaw online gambling but they've never succeeded (though they may in the future). Suffice it to say that you are free to play poker online, but you may run into a problem if you start operating an online poker room (especially if it is for profit).
If you've already looked into online poker as an American, you've probably realized that the Federal Government has done something to stop you. Relax, they haven't made online poker illegal, they're just trying to limit the banks from participating in the transactions. Right now, these laws have only made a minor impact, and they do not make you a criminal for playing poker online.
Poker in New Jersey Casinos
Atlantic City rules the gambling market on the east coast of the US, and the massive casino resorts invite poker players to get in on the action. Since these are some serious gambling establishments, you shouldn't have a problem finding your favorite poker game. From Stud, to Hold 'em, to Omaha, everything is available.
Generally the limits start at $2/$4 (though $1/$2 can be found), and the sky seems to be the limit. Most casinos in this area have twenty-five poker tables, but the larger poker rooms commonly host up to seventy-five tables. The Borgata Casino is at the top of the pack and hosts an impressive eighty-five poker tables.
Home Poker Games in New Jersey
Home games in New Jersey are generally allowed, but there is one big condition. First of all, if you are just attending and playing in a social home game, you have nothing to worry about. According to Section 2C:37-2 of the New Jersey Penal Code, "It is a defense to a prosecution under subsection a. that the person participated only as a player." If you helped promote or organize the game though, you are no longer just a player and you may have something to worry about.
If you are hosting a home game, then you have to be a bit more careful. The popular interpretation is that if the game is not held for profit, then it is acceptable. According to section 2C:37-4, a person is guilty of maintaining a gambling resort if he "…accepts or receives money or other property pursuant to an agreement or understanding with any person whereby he participates or will participate in the proceeds of such gambling activity…" You can win money by actually playing but you can't charge the other players a fee or rake the pot.