Virginia Poker - Virginia Poker Laws - Home Poker Games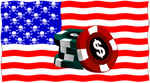 Is It Legal to Play Poker in Virginia?
Virginia is one of the few states that doesn't allow organized card clubs/casinos, but is perfectly fine with private home poker games. Sure they have restrictions, but most of your friendly home games are good to go. On top of that, you can play online poker in most circumstances even under the federal law.
For more information please visit our poker sites for us players page. Includes information on which poker sites accept players from Virginia and more.

Does Virginia Have Organized Poker Rooms?
No, short of horse racing and the state-sponsored loterry, Virginia doesn't condone any sort of formalized gambling. This means there are no casinos, no slot machines, and definitely no poker rooms. Many Virginian gamblers find that the best way to get their fix is to go to their neighboring states, such as West Virginia, where casinos (now with table games) are available.
This mass exodus of gamblers every weekend has definitely captured the attention of lawmakers who see nothing more than money pouring out of their state, but for the moment, they seem content with the current laws, and very little has been done to try to change anything. In the next few years, we will probably see a few small changes that allow some (heavily restricted) growth in Virginia's crippled gambling industry.
Are Home Games Legal in Virginia?
Even though we saw earlier that gambling has generally been made illegal, § 18.2-334 of the Virginia Penal code makes home games a complete exception, "Nothing in this article shall be construed to make it illegal to participate in a game of chance conducted in a private residence, provided such private residence is not commonly used for such games of chance and there is no operator as defined in subsection 4 of § 18.2-325."
To qualify the person who is hosting the game cannot act as an operator in the legal sense of the word. To accomplish this, simply do not attempt to profit from running the game. You cannot charge players to sit at the table, and you cannot rake the pot. As long as you, the host, are just another player, the game is completely legal.
Playing Poker Online in the State of Virginia
Virginia has yet to actually make a law regarding online poker. As it stands right now, you'll just have to try to apply their standard laws to the digital world. For instance, you can legally play poker online, but if you wanted to start your own poker website (for profit) then you would be in clear violation of the law.
From the federal level, operating a poker website is extremely illegal, and there are also a lot of restrictions on the banks that deal with online poker rooms. As for normal online poker players, the federal government has never made a law against online gambling, nor have they ever arrested or prosecuted anyone for playing poker online. At worst, your credit card company may not be allowed to send your money, in the form of a deposit, to an online poker company due to the Unlawful Internet Gambling Enforcement Act of 2006.