West Virginia Poker - West Virginia Poker Laws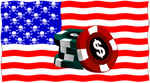 Is Poker Legal in West Virginia?
West Virginia has been slowly building a substantial gambling industry, but the state hasn't always been like this. Once upon a time, West Virginia had some greyhound racing tracks and nothing else, but today it's a hub for gamblers throughout Appalachia. West Virginia's gambling laws are responsible for the changes, but they still have some strict limitations that apply to poker players. Learn the laws to make sure your poker games are legal by reading on.
Find out where poker players from the state of West Virgina can play poker online with our poker sites for us players page.

Are Home Poker Games Legal in West Virginia?
No matter what state you are in, the topic of home poker games can be complicated. Even though West Virginia's Penal Code might not give you the answer you were looking for, they do make their stance crystal clear. We are told in §61-10-5, that "If any person at any place, public or private, bet or wage money or other thing of value on any game of chance… he shall be guilty of a misdemeanor."
The fact that poker has an element of skill may be saving grace, but that will be up to your lawyer to prove after you are arrested. In West Virginia, this misdemeanor can leave you with a $5-$300 fine (plus court costs), and a year of probation. Depending on the circumstances, a short prison sentence can be given. In short, you do not want to get caught playing poker, even just in your home.
Do West Virginia Casinos Have Poker?
Like we discussed earlier, there was a time when West Virginia only had greyhound racetracks, but these gambling establishments have grown with progressive changes in the law. At first, the tracks were allowed to start installing some slot machines, but today they can have table games and everything else you would expect.
The casino in Wheeling, West Virginia has been on the leading edge of all of these improvements and its location allowed for it to become major attraction for players from other states. Currently, millions of dollars from Pennsylvania and Ohio are siphoned into the West Virginian economy through the gambling in Wheeling. These economic successes were the driving forces behind the progress and they served to solidify all of the changes.
What About Online Poker? Is it Legal to Play Online Poker in West Virginia?
West Virginian poker laws are hardly tech savvy. Even the idea of betting via telephones or other electronic communication devices is not mentioned in the penal code. Having said this, it should be fairly obvious that cracking down on those who are gambling online is not a priority in the state.
A lot of people have started worrying about online gambling after the Unlawful Internet Gambling Enforcement Act was signed into law in 2006, but let's take a moment to look at how this law works. It gives federal agencies the tools to crack down on online gambling (poker included) but only in very specific ways. They are really hounding the banks that work with online gambling companies, but regardless of the details you should be aware that the United States Government hasn't made online gambling a crime; it is still completely legal.