Alabama Poker - Online Poker Sites Legal Or Illegal - Home Games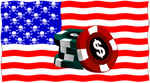 Is Poker Legal In Alabama?
Alabama is probably not the first state that comes to mind when you are thinking about gambling destinations, but it has a somewhat flexible stance, legally, on the topic.
This shouldn't be that surprising considering that the state lies right along the Mississippi river; home to the river boat casinos that introduced organized gambling to America.
For more information please visit our poker sites for us players page. Includes a complete list on which poker sites accept players from Alabama and more.


Does Alabama Allow Home Poker Games?
Alabama's gambling laws have one goal: stopping gambling in relation to organized crime. Because of this, they are tolerant of non-professional gambling as long as it is within the privacy of your own home, and it doesn't cause a public nuisance.
What exactly is non-professional gambling? It means that the host of the game is not running it for profit. If you charge people money to play in your home, or if you rake the pot, then you are breaking the law. To play it safe, don't advertise the game heavily outside of your friends, and don't chase a profit. If you are careful, there is no reason to worry about the legality of your game.
There are a couple of other considerations to consider as well. To start with, nobody under the age of eighteen should be present. Should your game get busted, this can be a serious issue. Also, keep your game out of the public eye. Playing in a restaurant or a library is just asking for trouble.
Do The Casinos in Alabama Offer Poker?
Alabama has some forms of sanctioned gambling. The state lotteries and grey hound dog tracks are the most notable, but they do have "casinos". The word "casinos" is in quotes because they aren't casinos in the typical sense of the word. They are highly restricted casinos, with only a few certain games.
These include digital machines (ie. Slots) and bingo, and not much else. Table games and poker are completely out of the question within this state, so you'll probably want to cross the Mississippi for greener gambling pastures.
Alabama Law and Online Poker
Alabama has, in the past, tried to restrict online gambling, but not of the proposed laws were never passed. At the moment, online gambling is ambiguous, but it's probably mostly risk free. The one thing that we can be sure is illegal, is launching your own online poker room. This is also a matter dealt with by the federal government.
With a combination of the Federal Wire Act and the Unlawful Internet Gambling Enforcement Act, the federal government now has more power than ever to reach out and strike back at online poker rooms. These laws strictly prohibit American's from owning and operating online casinos/poker rooms, but they also have some measures to stop players.
While playing poker online in America largely remains legal, it is illegal for banks to deposit/withdraw your gambling funds. Although this law is not very rigorously followed, it does present a problem for some players. If you don't feel comfortable risking the ability to withdraw your winnings at some point in the future, then online poker might not be for you.