Alaska Poker - Legal Poker Rooms in Alaska - Home Poker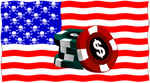 Is Poker Legal in Alaska?
Alaska makes some compromises when it comes to playing poker in the state. First of all, anything from an underground poker room to a full fledged casino is illegal in Alaska. The good news, however, is that players are still free to play within the privacy of their own homes (under certain conditions), and online poker should be legal. To clear things up, and learn about playing poker legally, keep on reading.
For more information please check our us online poker sites page. Includes information on which poker sites accept players from Alaska and more.

Is Home Poker Games Legal in Alaska?
According to Section 11.66.200 of the Alaskan Penal Code, "A person commits the offense of gambling if the person engages in unlawful gambling…. It is an affirmative defense to a prosecution under this section that the defendant was a player in a social game." So what exactly is a "social game"?
As you read on, you can learn that a social game means "gambling in a home where no house player, house bank, or house odds exist and where there is no house income from the operation of the game." So as long as the operator of the game is not raking the pot or charging the players, then the operator and the players are both within the bounds of the law.
If the operator is making a profit from the game, then all of the players a guilty of unlawful gambling and the operator gets the increased punishment of Promoting gambling in the first degree. According to the penal code, "A person commits the crime of promoting gambling in the first degree if the person promotes or profits from an unlawful gambling enterprise." The state is very serious about promoting gambling; this crime is actually a Class C Felony!
Does Alaska Have Casinos or Poker Rooms?
Alaska doesn't have real casinos. They do have some legalized forms of gambling, but you wouldn't recognize these places as full-fledged casinos. In general, even the smallest towns are allowed to have "casinos" with bingo games and pull tabs. It's still gambling, but it is a far cry from Las Vegas.
In the past few years, the government has been debating the topic of allowing full casino gambling. In the most recent proposed bill, cities with at least 150,000 residents would be legally allowed to operate casinos. These bills are continually shot down, but as states become desperate for more revenue streams, the idea of regulating gambling can become a feasible option.
Is Online Poker Legal In Alaska?
Alaska's gambling laws are keeping the industry in the Stone Age, but they haven't even touched the topic of online gambling. In the scheme of thing, especially considering the fact that you aren't operating an online poker site (or profiting from its operation), you should not really have to worry. Also, it would be difficult, if not illegal for the state to effectively monitor your Internet usage, so enforcement of any perceived crimes would be quite difficult. As a side note, you should also know that gambling online is not illegal under The United States' federal law.