Arizona Poker - Legal Poker Sites in Arizona - Home Games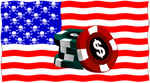 Is Poker Legal in Arizona?
The state of Arizona is pretty clear with its gambling laws until you start talking about playing online. Whether your next poker game is in a glamorous casino, or at a friendly backyard barbeque, there are plenty of exceptions to the standing laws that make it easy for poker players to get in on the action. Read on to learn all of the details you need to know to play poker legally while living in Arizona.
For more information please visit our poker sites for us players page. Includes information on which poker sites accept players from Arizona and more.

Are Home Poker Games Legal in the State Arizona?
Yes, but there are conditions. Technically all unauthorized gambling is unauthorized, but there are exceptions. One of these exceptions is "social" gambling. According to the definitions from Section 13-3301 of the Arizona Penal Code, social gambling's two biggest conditions are:
(a) No player receives, or becomes entitled to receive, any benefit, directly or indirectly, other than the player's winnings from the gamble.
(b) No other person receives or becomes entitled to receive any benefit, directly or indirectly, from the gambling activity, including benefits of proprietorship, management or unequal advantage or odds in a series of gambles.
So to make sure your home game qualifies as "social" gambling, the essential factor is profit. Whether the game is taking place at your home, or you're just organizing it for someone else, it is illegal for you to run the game like a business. You can't charge players with either flat fees or by raking the pot.
Beyond making sure that you aren't profiting from running a home game, you also need to be careful about who is playing. Anyone under the age of twenty-one is not allowed to take part in any gambling, and you can be held responsible if any minors slip through the cracks.
Can I play Poker Online from Arizona?
Arizona has never specifically addressed the topic of online gambling in their law books, so it's pretty ambiguous. Because you aren't artificially profiting from the game, it's probably okay. Also, there aren't any controls in place, or measures taken for the government to crack down on online gambling. In the end, it may be a risk, but until the law makers decide to do something about it, online poker appears to be legal.
What About Poker in Arizona's Casinos?
Arizona allows only the remaining Native American Tribes to operated casinos legally within its borders. Currently, there are twenty-two of these casinos, many of which offer full-fledged poker rooms. The biggest of these casinos in the state is Casino Arizona which offers forty-six different tables that cover all of the most popular poker games. Seven-card stud, Texas Hold 'em, and Omaha Hi-Lo are just some of the more popular poker options.
Because Native American tribes are authorized to run these facilities, they are totally legal, and you are welcome to partake in the action. Because Arizona is so close to Las Vegas, it doesn't see a large segment of it's tourism industry flocking for casinos, but the locals definitely appreciate the option.