Delaware Poker - Legal Poker Rooms in Delaware - Poker Law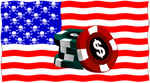 Is Poker Legal in Delaware?
With only one exception, Delaware is not a poker-friendly state. They've banned all types of gambling, including poker, which means there are no casinos and home poker games can be risky. They might not be at the most extreme end of the spectrum, but they are close. Read on learn all of the details, and the few ways you can attempt to legally play poker in Delaware.
For more information please visit our poker sites for us players page. Includes information on which poker sites accept players from Delaware.

Does Delaware Allow Home Poker Games?
Probably not. While the laws are very ambiguous, the District Attorney has declared in the past that any sort of gambling, including poker, is illegal regardless of the circumstances. Even penny poker where there is no "house" to rake the pot or charge players a fee. In the past, people in Delaware actually have been arrested for hosting home poker games.
You might feel like there is no way for any law enforcement agency to discover your private poker games, but this might not be true. The biggest mistake made by the people who have been caught in the past, is that they allowed their games to cause public nuisances. If you have thirty cars trying park on your street every weekend, don't be surprised if it draws some attention.
Does Delaware Have Legal Card Rooms?
Delaware doesn't have any casinos or card rooms simply because they haven't written the appropriate exceptions to the law. There is, however, one situation where you can legally play in organized poker rooms. Non-profit, charitable organizations are allowed to use poker and other games of chance as fundraising tools. These organizations must get a license from the state, and there are maximums on the betting limits and frequency of play.
Even though most of these organizations (fire departments, fraternities, and veterans) can only hold games once a week, there are enough licensed groups to let you play nearly every night of the week. Sure you can't play with high stakes, but it is not uncommon for Delaware's citizens to win a couple hundred dollars in a night playing poker legally.
Is Online Poker Legal in the State of Delaware?
Like so many states, Delaware has yet to officially address online gambling in the law books. Some people may argue that certain sections of the current penal code could carry over to online gambling, but the reality is that we just don't know. Because it is so unlikely that your will be caught for playing online, and because Delaware isn't aggressively going after online gambling, it seems to be mostly legal.
If you were worried about breaking a federal law by playing poker online, you can relax. It's true that the federal government has stepped up its efforts to shut down the online gambling industry, but their approach does not involve prosecuting any players. In fact, they are exclusively trying to work with the banks and credit card companies that prop up the world of online gambling by completing gambling transactions. At worst, you will have some difficulty making deposits and withdrawals.