Florida Poker - Florida Online Poker Laws - Home Poker Games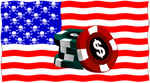 Is It Legal To Play Poker In Florida?
Poker is not prohibited, but it is heavily restricted. Luckily there are a lot of different options ranging from home games, to playing in live casinos run by Native Americans. In fact, some ambitious poker players even take their game off shore to escape Florida's jurisdiction. Read on to learn all the rules, and how they affect you.
For more information please visit our poker sites for us players page. Includes information on which poker sites accept players from Florida.

Are Home Poker Games Legal in Florida
Home Poker Games are specifically mentioned, and accounted for in the Florida Penal Code: Chapter 849. It states that you are guilty of a charge of the third degree if you "own or operate a house or room for the purpose of gambling or gaming" unless it is just a penny ante game.
Beyond limiting home games to penny-poker, these home games must limit the pot size to a maximum of $10, all players must be of at least eighteen years of age, and you cannot charge players to play or rake the pot. Looking to play with higher limits? Although it is illegal to play for more than pennies, it is rare for the authorities to go after friendly home poker games between friends.
Can You Play Poker In Florida Casinos?
On the first day of July 2007, The Florida Legislature passed Bill 782 which expanded upon the current poker laws. After being signed into law, public poker rooms, and land casinos could begin to take advantage of slightly higher limits than home games. Here are the rules:
Poker rooms can operate for any 12-hour period of the day.
Limits of $2 per betting round are allowed.
Limits of up to $5 bets are allowed.
Because of the rules regarding betting limits, No Limit Hold 'em games are popularly played with $1/$2 and $2/$5 limits. As for the buy-in limit, the legislators have clarified the intent of the law by stating that players cannot receive more than $100 worth of chips at one time, and can only re-buy until their bankroll has reached the $100 mark. This means you cannot just keep buying in $100 increments to build a very large bankroll.
If you want to beat the system and play for larger limits, you can always go on a casino boat. These ships carry 100-800 passengers, and go out to sea where they aren't restricted by Florida's gambling laws. If they are eastward bound, they must only travel three miles into the Atlantic Ocean. If traveling westward into the Gulf of Mexico, then they must lay anchor at least nine miles off shore.
Is Online Poker Legal in the State of Florida?
Online poker is not illegal in Florida. That is to say that you can't be punished directly for playing poker online, but the federal government has tried to stop online gambling from a different perspective. Currently banks and credit card companies are not allowed to make payments to or receive payments from online poker rooms. This might make it difficult for you to make deposits and withdraw winnings, but most of the online poker companies have done a good job of getting around these restrictions.