Idaho Poker - Poker Laws in Idaho - Home Poker Games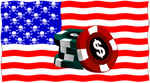 Is Poker Legal in the State of Idaho?
Idaho is a pretty conservative state all around, and this is reflected pretty well in their gambling laws. Not all gambling is illegal but most of it is, unless it takes place in a restricted Indian Casino or is government run. There are some loopholes for charities but don't count on those to keep you out of trouble. In general, poker is illegal in Idaho, and here are all of the details you need to make an informed decision.
For more information please visit our poker rooms accepting USA players . Includes information on which poker sites accept players from the stats of Idaho

Does Idaho Allow Home Poker Games?
There are a few defenses in other states that allow poker to be played in private residences. None of these exceptions exist in Idaho. The first point most hopeful players point to is the fact that their poker games are not operated for a profit. In a lot of states, that is an important point to make, but in Idaho it is immaterial.
Also, a lot of players will say Idaho law only applies to games of chance, but poker is a skill game. While this would normally be a reasonable defense based on Idaho's current laws, there is another section that invalidates it. In fact, poker is specifically listed as a prohibited game, which probably overrules the skill component of the game.
Can You Play Poker in Idaho Casinos or Card Rooms?
Idaho does have casinos, but they cannot legally offer poker games. In fact, these are not full-fledge casinos like you might expect in some other states. The six "casinos", run by Native American Tribes, in Idaho are relatively new compared to the state's horse racing tracks.
When they were legalized and developed in the late 1980's, Idaho's casinos could only exist if they were willing to be bound to some restrictions. Among other things, they could only operate certain types of games. Slot machines and video poker games are extremely popular as is bingo. Also, most of these casinos offer off-track horse betting for Idaho's many avid horse racing fans. Poker though, is completely out of the question in authorized casinos.
Is Online Poker Legal in Idaho?
This is another area that isn't crystal clear, but it's not as messy as playing poker in your home. In fact, Idaho's poker laws are behind the times, to say the least, and do not even mention the internet, telephones, or any other kind of electronic communication. Between this fact, and some other legal issues, it seems that Idaho has no real interest in stopping online poker.
As a resident in Idaho, you'll also have to consider federal rules. It is a common misconception that online poker is illegal in the United States. It stems from the fact the federal government really is trying to stop online gambling, but they haven't made any laws that could be used to prosecute players. For the time being, they are only tackling the problem by putting pressure on banking companies and credit card companies. As an online poker player, you are not breaking any federal laws.