Iowa Poker - Poker Laws in Iowa - Home Poker Games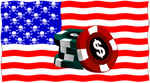 Is Poker Legal in the Iowa?
Iowa only has a few regulations on poker games in its states. With full, licensed casinos, no laws against online poker, and only one major limitation on home poker games, Iowa is decidedly a pro-poker state. Read on to learn how the state's penal code regulates poker and what you have to do to meet the law's requirements.
Find out which online poker sites accept players from the state of Iowa Poker by checking our US poker site guide.

Does Iowa Allow Home Poker Games?
Iowa, like may states, has some exceptions to its gambling laws for social poker games. Iowa however has really gone the extra mile to ensure that the games follow a strict set of protocol. There are a wide range of regulations (Section 99B.12) that must be met for a social game to be legal, here they are:
All participant must legitimately have a "social relationship", the game can't be held in a school, the game must be fair, the host cannot charge a fee or rake the pot, all players must be allowed to take a turn dealing, and no player can win or lose more than $50 in a twenty-four hour period. Also, all persons present must be at least eighteen years of age.
Most of these rules are easy to obey in the course of a normal home poker game, but the $50 limit may be restrictive to some. Sure there are a lot of games where nobody risks more than $20, and a $50 buy-in tournament can be pretty thrilling, but there are some high-stakes players who can't play as aggressively as they'd like to.
Do Iowa's Casinos Have Poker?
The state of Iowa does authorize some legal casinos to operate within its borders. Because these are privately owned, they come in a wide variety of shapes and sizes. Since they are under the supervision of the state's licensing board they also provide a valuable income stream to the state.
Some of these casinos just have a block of slot machines, and others are actually horse racing tracks, but the larger casinos have it all: slots, table games, horse betting, and poker. The poker rooms in the biggest casinos have all of the most popular poker games, and are a great alternative for players who want to play with higher limits than Iowa's home poker games allow.
Are There Any Online Poker Laws in Iowa?
Iowa is surprisingly silent on the issue of online poker. Not only do they not discuss the internet, but there isn't even a mention of transmitting gambling data via telephone or other electronic medium. Because it's such an untouched issue, it is unlikely that the state of Iowa would have any legal problem with you gambling online.
Also, you are safe from federal prosecution at the moment. Although many players on the internet are worried about violating the Unlawful Internet Gambling Enforcement Act, this law is designed only to thwart banks from paying online gambling companies and does not target players in any way, and no players have been arrested or prosecuted. At worst, you might have a hard time withdrawing your winnings.