Kentucky Poker - Poker Laws in Kentucky - Home Poker Games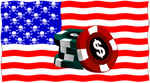 Is Poker Legal in the State of Kentucky?
The short answer is that poker can be legal in Kentucky, but that depends upon several different factors. Although Kentucky hasn't taken a hard line anti-poker stance, the state is generally against gambling. Read on as we take a look at what the state's penal code has to say about gambling.
You can find out which poker sites accept players from Kentucky by reading our US poker online guide.

Does Kentucky Allow Home Poker Games?
Some home poker games are totally legal, while others are not. The biggest defining factor is whether or not you are guilty of promoting gambling. Looking at Section 528.030 we cans see that "A person is guilty of promoting gambling in the second degree when he knowingly advances or profits from unlawful gambling activity." This offense is a Class A misdemeanor.
If you earn more than $500 in one day from these activities you may be convicted for promoting gambling in the first degree which is actually a Class D felony! So how can you avoid being prosecuted? The easiest thing you can do is to not host a game for profit. If you rake the pot or charge players a fee to enter the game, then you'll be in clear violation. As the definition in 528.010 states:
"A person who gambles at a social game of chance on equal terms with other participants does not otherwise advance gambling activity by performing acts, without remuneration or fee, directed toward the arrangement or facilitation of the game as inviting persons to play, permitting the use of premises therefor and supplying equipment used therein."
Are Organized Card Rooms Legal in Kentucky?
Although it might not be too surprising to hear, Kentucky does not generally support organized gambling (for moral and social reasons). The same laws that apply to home games apply to poker everywhere: If someone is profiting from running the game, then it is not legal.
Many states do make exceptions for certain authorized casinos (which often pay the state quite well) but Kentucky does not make this distinction. If you open a casino or a poker room, and you even attempt to earn a profit, you will be breaking the law. As a note, some charitable organizations may be able to operate certain games of chance under a slightly different set of rules. Also, horse racing has been a long-standing mainstay in the Kentucky gambling market and continues to be legal.
Is Online Poker Legal in Kentucky?
Kentucky was one of the first states to aggressively go after the online poker industry. In 2008, the governor of the state (Steve Beshear) declared that online poker sites and casinos are "leeches on our communities and unfairly undermine Kentucky's horse racing industry."
To strike back he attempted to confiscate one hundred forty-one major domain names such as FullTilt.com, BodogLife.com, and even PokerStars.com! Although the governor didn't entirely succeed the state of Kentucky was awarded with a couple of the small casino websites. The state might not be chasing players away just yet, but they have proven that they aren't afraid of getting involved in online gambling.