Maryland Online Poker Sites - Legal Poker In Maryland - Gambling Laws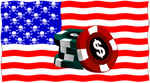 Find The Best Online Poker Sites Accepting Players From Maryland
Is it Legal to Play Poker in Maryland?
Maryland is decidedly against most forms of gambling, including poker. Maryland law, as it stands today, prohibits poker in every form. There are no card rooms or casinos, and even home games are against the law. The law is pretty clear, but there are a lot of different caveats for different situations. To learn how Maryland's Poker laws apply to you, keep reading.
You can find out which poker sites accept players from the state of Maryland by reading our US poker online guide.

Gambling Laws For Home Poker Games
In general, gambling has been abolished within the borders of Maryland. To drive the point home, the first law about gambling says that "a person may not bet, wager, or gamble."(§ 12-102). It goes on to discuss book keeping and operating an illegal house of gambling, but the very fact that they initially start by banning gambling, across the board, is telling.
As we go through the rest of the articles, we see that there are some exceptions Sadly, none of them really apply to you. Depending upon which county you live in, some charitable organizations are given leeway when it comes to using gambling as a fundraiser. Also, properly authorized horse betting tracks are allowed in the state.
According to § 12-104, the penalty for hosting a gambling establishment is more severe. Two of the most pertinent conditions for committing this crime are that it is illegal to:
own, rent, or occupy all or a part of a building, vessel, or place and knowingly allow a gaming device to be kept in the building, vessel, or place;
lease or rent all or a part of a building, vessel, or place to be used for the purpose of gambling;
Is Poker Legal in Maryland Casinos?
Maryland doesn't have casinos in the traditional sense. Primarily, they have racetracks for horse betting, but these don't include full casino facilities. Depending upon the county, some of these horse tracks may be allowed to offer slot/video gambling machines, but poker is out of the question.
Because Maryland is relatively close to Atlantic City New Jersey, there is a natural tenancy for gamblers to leave the confines of their state to get some real casino action. Every year, millions of dollars are drained out of the state by traveling gamblers, and this is the only reason that the legislature may, one day, rethink its anti-gambling and anti-poker stance.
Is Online Poker Legal in Maryland?
Maryland might be against most forms of gambling, but they have yet to revise their penal code to reflect this attitude towards modern, digital gambling. In this situation, playing poker online is questionable. You are making a wager, which is illegal, but the complete lack of any mention of the Internet makes this activity seem less criminal. Not to mention the inability of the state to enforce any possible infractions.
In the end, online poker might be a low risk activity, but until the courts can tackle the subject, you'll have to use your own discretion before playing. As a side note, the federal government has not made it illegal to play online poker.