Mississippi Poker - Poker Laws in Mississippi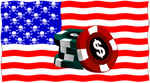 Is Poker Legal in Mississippi?
The State of Mississippi doesn't want to completely eliminate all gambling, they've just decided to regulate it. When we take a look at playing in your home, in casinos, and online, we can see that poker games are sometimes permitted, and other times totally illegal.
You can find out which poker sites accept players from Mississippi by reading our US poker online guide.

Are Home Poker Games Legal?
In the State of Mississippi, gambling in general is illegal. According to Section 97-33-1 of the state's penal code, "If any person shall encourage, promote or play at any game, play or amusement… for money or other valuable thing…  he shall be fined in a sum not more than Five Hundred Dollars." Also, as the host of an illegal or unauthorized game, the severity of the crime can increase further.
So when it comes to playing poker in a private residence, such as your home, you are probably wondering if Mississippi's legal system has made an exception. Actually, you may be surprised to learn that even in your own home, playing poker is still illegal. Even if nobody is profiting from running the game, it is against the law.
Do Mississippi's Casinos Have Poker?
Mississippi's poker scene thrives because the government makes some very serious allowances for organized gambling. There are more than enough casinos in this state, and everything goes. Whether you're focusing entirely upon poker or you'd like to branch out and play some other games you will never be disappointed. Slots, keno, and all of the major table games are prevalent in all of the biggest casinos.
One interesting gambling option that is generally difficult to find elsewhere, is the use of riverboat casinos. These mini-cruise ships travel the massive Mississippi river, which follows the Mississippi border. Casino riverboats are discussed to a great length in the penal code, but suffice it to say that they are given the same privileges as the land-based casinos within the state.
Does Mississippi Have Legal Online Poker?
Mississippi has yet to confront the issue of online gambling (including poker). The laws that govern gambling in Mississippi are conspicuously outdated in regards to using technology, considering that they do not even mention the use of telephones or other electronic methods when transmitting gambling information.
There is always the concern that the traditional gambling laws may cover online poker, but the fact that the state hasn't commented on the subject suggests that they are not planning on prosecuting poker players anytime soon. Just to be safe, you may want to keep your online poker experiences private, just in case.
If you've ever searched for information about online poker in the United States, you have probably seen all of the conflicting options about the law. To set the record straight, all of the United State's efforts to combat online gambling with the Unlawful Internet Gambling Enforcement Act (UIGEA) have been focused on the financial end of things. Your bank and credit card companies may need to worry, but you do not.