Missouri Poker - Poker Laws in Missouri - Home Poker Games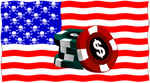 Is Poker Legal in Missouri?
Like so many states, Missouri has made gambling illegal unless it is performed in a licensed casino so they can get a piece of the revenue. Home poker games are on rocky ground (at best) and online poker isn't much safer. Missouri might not have put a stop to all gambling, but they've definitely cornered the market!
You can find out which poker sites accept players from the state of Misouri by reading our US poker online guide.

Are Private Home Games Allowed?
The state of Missouri makes no special exceptions for private home games, even when the proprietor is earning no money. The real issue at hand is the fact that games of chance are forbidden; even those that still require a material level of skill! Since home games are not given the same level of authorization found in licensed casinos, they are totally banned.
Citing Missouri Penal Code, Article 572.020 "A person commits the crime of gambling if he knowingly engages in gambling. Gambling is a class C misdemeanor." They couldn't have said it any more succinctly. To get some more detail we need to take a look at the official definition of gambling:
"…a person engages in "gambling" when he stakes or risks something of value upon the outcome of a contest of chance or a future contingent event not under his control or influence, upon an agreement or understanding that he will receive something of value in the event of a certain outcome."
Unlawful gambling is especially risky for the professional gamblers. If you've earned at least 20% of your income from gambling in any of the past five years, then you qualify as a professional gambler. As such, a conviction for unlawful gambling can yield a Class-D Felony charge!
Do The Casinos in Missouri Have Poker?
Missouri is home to a handful of casinos, as well as some licensed river-boat casinos that traverse the Mississippi river (the east coast of the state). The games that take place within the walls of these authorized establishments are not legally considered gambling, and are 100% legal.
Missouri's casinos have table games, video poker, slots, and yes they also are famous for their poker rooms. While the poker rooms in Missouri are frequently smaller than those in some other states, all of the most popular games are represented; Stud, Texas Hold 'em, Omaha, and others are frequently offered.
Does Missouri Have Online Poker Laws?
The Missouri Penal Code doesn't specifically address online poker, but the courts would probably agree that their standard gambling laws could apply to the digital era. Until it gets the opportunity to be tested in the state's judicial system, online poker in Missouri is still dubious at best.
As with the other forty-nine states, the federal government has taken some steps to put an end to online poker. While there are no laws against playing, it is absolutely illegal to own and operate an online poker room. Also, the banks, and other financial institutions, have taken some serious flak from the federal government for completing payments (deposits) to online poker rooms.