Montana Poker - Poker Laws in Montana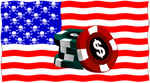 Is Poker Legal in Montana?
Montana might not broadcast a very pro-gambling disposition, but in reality they have a great deal of tolerance for those citizens who like to play poker. Whether playing in your home or in a real casino, Montana has created exceptions for certain games. There are only a few simple requirements you must follow to make sure you are compliant. Online poker, however, has been pretty well shut down by the state of Montana. To get all of the legal details and to learn what you must do to keep your games legal, read on.
You can find out which poker sites accept players from Montana by reading our USA poker online guide.

Does Montana Allow Home Poker Games?
Montana may have taken an anti-gambling stance, but they are one of the states that does make an exception for poker games that take place in a private setting assuming that the game is not being operated for any kind of profit (including non-cash items of value).
By "profit", they do not mean that you can't win real money as a successful poker player, just that the operator of the game cannot charge players by using fees or raking the pot. This might be the single most important point to which you should carefully conform.
Beyond playing for a profit, there are some other things to consider to be sure your poker games aren't breaking the law. To start with, these games need to be kept in private residences. Also, every participant must be of the age of majority. Finally, it will help your cause if you only invite friends to play, so it doesn't look like you are trying to operate an unauthorized card room
Does Montana Have Casinos or Card Rooms?
Montana actually does allow card rooms with real-money poker games within its borders. The state of Montana has casinos, run by Native American Tribes. These establishments are allowed to have slot machines, bingo variations, and all of the table games you love including full poker rooms.
The catch, however, is that the cash poker tables cannot have pots that exceed $300 in value. For low limit players, this simply is not a problem, but there are plenty of poker players who would prefer to play with higher stakes. For high rollers, the best legal option would be to host a private, non-profit poker game which is legal at any and all limits.
Is Online Poker Legal in Montana?
Montana is ahead of the curve when it comes to state laws that have an impact on online gambling. In fact, they have completely outlawed the pastime. According to Montana's Penal Code, online gambling "includes but is not limited to the conduct of any legal or illegal gambling enterprise through the use of communications technology that allows a person using money, paper checks, electronic checks, electronic transfers of money, credit cards, debit cards, or any other instrumentality to transmit to a computer information to assist in the placing of a bet or wager and corresponding information related to the display of the game, game outcomes, or other similar information."