Washington Poker - Washington Poker Laws - Home Poker Games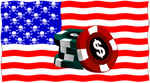 Is Poker Legal In Washington?
In the state of Washington, the law books do not heavily restrict poker. There are a few pieces of legislation that outlaw some gambling, but these rules are aimed at organized crime, not ordinary people. So whether you want to play in a casino, or right in your own home, Washington is an all around poker-friendly state.
Check our US online poker page for information on poker sites that will accept Washington players

Can I Play Home Poker Games in Washington?
For the most part, home poker games are legal in Washington as long as they remain "social", as opposed to "professional". Professional gambling is a crime that can yield anything from a gross misdemeanor to a class B felony.
To determine if any given home game is "professional gambling" you look to see if anyone is actually profiting from the game. A profit could be from collecting fees or raking the pot, but this doesn't have anything to do with winning or losing bets. If the "house" is making a guaranteed profit, then the game is considered "professional".
According to Article 9.46.220 of the Washington Penal Code, "Any person who operates, manages, or profits from the operation of a premises or location where persons are charged a fee to participate in card games is conducting First Degree Professional Gambling, a class B felony."
This means the operator of the game can be convicted, and there are lesser crimes for those who help maintain the facilities and those who conspire with the operator. Being a player in a "professional" game is even a crime and your money may be taken as police evidence.
Do The Casinos in Washington Offer Poker?
The state of Washington has nearly two-dozen casinos, all of which are operated by the local Native American tribes. Most of these casinos are complete with slots, video poker machines, table games, and even full poker rooms. Even though these games would typically be banned, the government has built some targeted loopholes to help the local Native American tribes succeed in the region.
The largest casino resort in the state is the Muckleshoot Indian Casino. It's poker room offers Hold 'em, Omaha (Hi/Lo), Stud, HORSE, and more via cash games and major tournaments. At the cash tables, the limits range from $2/$4 all the way to $200/$400 and the daily tournaments can be entered for as little as $30.
A Word On Online Poker
Washington is one of the few states that has really updated their poker laws to cover online gambling. Instead of restating all of the old laws to mention the digital realm, they added Article 9.46.240 that basically states that all of the old laws (1973) carry over, and fully protect against any gambling info sent over the Internet.
What kind of information might you "transmit" over the Internet? Well placing bets is the obvious one, but every mouse click counts. While enforcement methods may be lagging behind the law, the state of Washington has strayed from its pro-poker background as it enters the online arena and has officially banned online poker for its residents.