Pennsylvania Poker - Poker Laws in Pennsylvania - Home Poker Games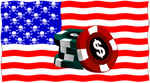 Is Poker Legal in Pennsylvania?
Pennsylvania has become a battle ground state for the legal standing of poker in America. With the police busting up home games and the judges supporting the poker players, it's very unclear where the state really stands on the issue of playing poker. Amid the chaos though, some things are perfectly clear..
Learn which USA poker sites will accept players from the state of Pennsylvania

What about Home Poker Games in Pennsylvania?
This topic is widely debated, and is currently being considered by the courts. The question is whether or not poker is really a form of gambling. There are three elements to all unlawful gambling in the state: Consideration, Chance, and Reward.
Right now, Chance is the element that is under intense scrutiny. The use of cards and the act of making wagers reminds many of casino games, like roulette, which do depend on chance. Poker though, falls somewhere between pure chance and pure skill, and early 2009 we finally heard an official ruling.
Judge Thomas A. James Jr. ruled that skill is a material element of the game of poker and that "money flows from bad players to good players." This is a major victory for poker in the state of Pennsylvania, but it was won at the county level. Before it can become a statewide precedent, the Supreme Court of the state will have to tackle the same issue.
Can I play Poker in Pennsylvania's Casinos?
Right now, poker rooms are forbidden from Pennsylvania's casinos. As nearby, out of state casinos start adding poker rooms (Wheeling West Virginia) many Pennsylvanians are starting to travel to play.
As the casinos realize how much money they are missing out on, and the state learns what kind of revenue poker can produce, we'll probably see this change. In fact, there are some serious factions lobbying for poker in Pennsylvania's casinos, which currently can only offer slots games.
The Legality of Online Poker in Pennsylvania
The state of Pennsylvania has stayed out of the online poker discussion. In general, playing poker online is out of the scope of Pennsylvania's law enforcement, but that doesn't mean it's legal. One thing that is for sure is that it is illegal for you to own and operate an online poker room in the state.
As Americans, most Pennsylvanians have heard horror stories about the Federal Government cracking down on online poker. To set the record straight, the Unlawful Internet Gambling Enforcement Act (2006) prohibits financial institutions from completing transactions with online gambling companies.
This means that it is illegal for your credit card company or your bank to let you deposit money or withdraw your winnings. If you've played poker since 2006, then you know that this hasn't created much of a roadblock. Most poker rooms go through third party processors and the banks are more than happy to ignore the deceptions since there is money to be made. This situation, however, isn't flawless; the US federal government has confiscated millions of dollars in online poker winnings as they become more aware of the problem.