Tennessee Poker - Tennessee Online Poker Laws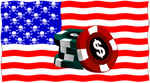 Is Poker Legal In Tennessee?
Actually no, Tennessee's penal code makes it very clear that poker is not acceptable in the state. According to § 39-17-501 "Gambling is contrary to the public policy of this state and means risking anything of value for a profit whose return is to any degree contingent on chance, or any games of chance associated with casinos…"
Learn which USA poker sites will accept players from the state of Tennessee

In other states, the above law would be challenged on the grounds that poker is a game of skill, but to clear this up, the penal code has a statement of intention. "The commission intends to include any scheme by which value is risked upon a chance for greater value as a "gambling" offense. The definition of "gambling" includes lotteries, chain or pyramid clubs, numbers, pinball, poker or any as yet unnamed scheme where value is risked for profit."
Are Home Games Legal In Tennessee?
Most states have laws that resemble the ones we just looked at, but also include some caveats for home games; Tennessee is not one of these states. Whether or not you are profiting from their operation, home games are entirely out of the question. Even if you are simply a player you can be charged with a class C misdemeanor.
There is, however, one defense that you may be able to use if you are charged with illegally gambling. According to 39-17-502 (defenses) as a defendant, anyone can try to prove that they "reasonably and in good faith relied upon the representations of a gambling promoter that a gambling activity was lawful because it was an authorized annual event". It's flimsily at best, but it's a good option to be aware of.
What About Poker in Tennessee's Casinos
Remember how all forms of gambling have been prohibited by Tennessee? Well they don't have any exceptions. Not for home poker games, and not for authorized casinos either. Tennessee doesn't even have a single horse track! It is one of only three states in the entire United States of America that doesn't have any form of legalized gambling (along with Hawaii and Utah).
Does Tennessee Allow Online Poker?
Tennessee hasn't made any specific mention of online gambling in its penal code, but with their anti-gambling laws, it's quite likely that they would consider it a crime to place a wager over the Internet. This stance shouldn't be too surprising but they definitely don't have the resources to go after cyber-gamblers just yet. As long as you resist the temptation to start your own online poker room, you'll probably be in the clear.
Law enforcement officials on the federal level have been slowly grinding away at online gambling since 2006. The aren't criminalizing the act of playing online, but they are hounding the banks who keep the whole process afloat. Technically banks and credit card companies in the US are not allowed to deposit or withdraw your funds from online poker rooms, but the tech-savvy poker websites have largely worked around these legal hurdles to keep you in the game.