Vermont Poker - Vermont Online Poker - Home Poker Games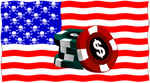 Is Poker Legal In Vermont?
On the whole, Vermont is not a poker friendly state. In fact, there are not very many ways to play poker legally in this state. Some charitable organizations may be able to host cash poker games, and it appears that online poker is legal. As far as home games and card rooms go, you have no legal options. As a poker player, there are many better states in The United States, but if you'd like to know how these laws are written then read on.
Want to play poker online from Vermont? If so visit our USA online poker sites page.

Are Home Poker Games Legal?
Social gaming is treated in a unique way in the state of Vermont. While it is technically illegal, it isn't a full misdemeanor or a felony. In fact "social gambling" only elicits a miniscule fine worth no more than $5.00 and no substantial criminal charges. From the actual law books (Section 2132), we are told "A person who plays at cards, dice, tables, billiards or other game for money or other valuable thing shall be fined not more than $5.00."
In this state, it does not matter if the game was being run for profit. The only way you could legally have a social home poker game in Vermont is if you were not actually gambling, but rather playing without real-money wagers. In the end, the law enforcement agencies might not be breathing down your neck, but it is still illegal to play.
Does Vermont Have Casinos or Card Rooms?
Vermont does not have any sort of legalized gambling businesses in the state, but there are some legal gaming options for charitable organizations. Any non-profit organization that has been in operation for longer than one year can host fundraising games. These can be held twice a week and the only excluded games are slot machines and other mechanical devices.
Theoretically, charitable organizations should be able to hold cash poker games twice a week, but you'll have to go out and find them. Religious groups qualify, but their beliefs often conflict with gambling so you may want to look for fraternal organizations or civic groups. If you cannot find any local charitable games, you may want to suggest poker as a fundraiser to near-by organizations.
Is Online Poker Legal In Vermont?
Vermont might not allow any gambling within its state, but the legislature has yet to comment on the controversial issue of online gambling. Even though some states quickly drafted laws against using the Internet for gambling, there are some privacy rights issues involved.
With the knowledge that the government probably cannot monitor your Internet usage, the legislative body has restrained itself from writing any laws. Just in case their traditional gambling laws may be applicable to gambling online, you should contact your local law enforcement agency before making a decision about playing poker online. Regardless of Vermont's online gambling laws in the future, you should be aware that the federal government has no laws against playing online poker.