Wisconsin Poker - Wisconsin Poker Laws - Home Poker Games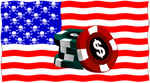 Is Poker Legal in Wisconsin?
The Wisconsin Penal Code goes into great detail when talking about gambling, but only a small fraction of the legislation could be wielded against poker players. To get a solid, fundamental look at the nature of gambling in Wisconsin, let's check out their legal code. At the start of the gambling laws in Wisconsin, we are given a decree against gambling. According to section 945.02 of the Wisconsin Penal Code, "Whoever does any of the following is guilty of a Class B misdemeanor: Makes a bet; or…" This law goes on to mention things like lotteries, but for our purposes, it's good to see that betting is outlawed.
For more information please visit our poker sites for usa players page.

Are Private Home Poker Games Legal?
Before we can really interpret the above law, we must examine how the state defines the term "bet". According to the definitions contained within the penal code, "A bet is a bargain in which the parties agree that, dependent upon chance even though accompanied by some skill, one stands to win or lose something of value specified in the agreement."
This definition definitely includes playing poker. In a lot of states, hopeful players have asserted that poker is a game of skill, not of chance. In Wisconsin though, the skill factor has been included in the definition of betting.
There are a few exceptions to the ban on gambling including some bingo games, raffles, and authorized Indian casinos. Your home poker games, however, are not protected. You probably won't be bothered unless you are operating a real backroom card club, but private games among friends are still illegal.
Do the Wisconsin Casinos Offer Poker Games?
The casinos in the state of Wisconsin are all owned by Native American Tribes. While they are allowed to offer poker, a few of the casinos only have three or four card casino poker games. To ensure that you have access to a full poker room, you'll want to visit one of the larger resorts.
The poker rooms that are in operation are generally very large. You'll find that most of them offer at least three or four of the most popular poker games throughout the whole day, and weekly tournaments are fairly common. In general, Texas Hold 'em and Seven-Card Stud are the most widely offered poker games in the state of Wisconsin.
Online Poker and Wisconsin's Laws
Although the state hasn't gone after online gamblers yet, it appears that playing poker online is illegal in the state of Wisconsin. It is illegal for you to use a wire communication facility to transmit bets. This law (section 945.03) was written with telephones and faxe machines in mind, but the writing is vague enough to cover the domain of digital gambling on the web.
In addition to outlawing playing poker over the Internet, the state definitely will not stand for it's residents owning or operating any kind of online poker sites or casinos. Sure they might not bring down a lot of heat, but the federal government does actively pursue Americans who run online poker rooms.