Wyoming Poker - Wyoming Poker Laws - Home Poker Games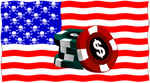 Is Poker Legal In Wyoming?
Wyoming's gambling laws are short. In fact, it seems as if this portion of the penal code was barely more than an afterthought. After reviewing all of the information, you will see that Wyoming is not a particularly pro-poker state, but they also refuse to step on your private rights. Because of their "social gambling" considerations, this state is probably adequate for people who just like to play poker socially from time to time. If you are looking for a Las Vegas experience, this is definitely not the state for you.
For more information please visit our US poker site page. Includes information on which poker sites accept players from the state of Wyoming.

Does Wyoming Allow Home Poker Games?
According to Section 6-7-102 of the Wyoming Penal Code "A person who engages in gambling commits a misdemeanor punishable by imprisonment for not more than six (6) months, a fine of not more than seven hundred fifty dollars ($750.00), or both." So what exactly is gambling? Well according to the definitions section, it's pretty much what you would expect but there is one big exception.
In Wyoming, the term "gambling" does not include, "Any game, wager or transaction which is incidental to a bona fide social relationship, is participated in by natural persons only, and in which no person is participating, directly or indirectly, in professional gambling." This means that you and your friends can play a game of poker as long as the host is not profiting (raking the pot).
Does Wyoming Have Casinos?
Not really. There is one facility in Wyoming that may qualify as a casino, but it's not much to look at. This venue only offers pari-mutuel betting, and it is limited at that. Wyoming hasn't experienced the same pressures that have pushed other states in the pro-gambling direction.
As the smallest state in the country, Wyoming does not depend heavily on tourism, and the tourists who do visit the state are largely interested in the state parks and other natural attractions. In short, there is just not that much demand for legalized gambling, especially considering the fact that home poker games are legal.
Is Online Poker Legal In Wyoming?
Wyoming has not tackled the issue of online gambling. Really, beyond covering the basics of traditional gambling, they haven't branched out into any of the more technical types of gaming. From the viewpoint of the federal government, online poker is also legal.
You may have heard that The United States Government was cracking down on online gambling, and they are, but the devil is in the details. The passage of the Unlawful Internet Gambling Enforcement Act was a landmark achievement in the war on online gambling, but it does not directly affect you, the player. The goal of the federal anti-gambling laws are to go on the offensive against financial institutions.
These laws make it difficult for banks and credit card companies to make your deposits and complete your withdrawals from online gambling companies, including internet poker rooms. They might make your experience more difficult, but they don't make online poker illegal in any way.