Arkansas Poker - Legal Poker Rooms in Arkansas - Home Poker Games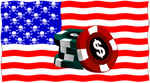 Is Poker Legal in Arkansas?
Arkansas actually addresses all card-based gambling games within the gambling laws. According to Section 5-66-112 of the Arkansas Penal Code "If any person is guilty of betting any money or any valuable thing on any game of brag, bluff, poker… or at any other game of cards, known by any name… he or she shall be fined in any sum not less than ten dollars nor more than twenty-five dollars."
That's right, poker and all other card games (where money is being wagered) are illegal in Arkansas, but players are only fined $10-$25. This probably makes poker a low-risk activity, but it is against the law nonetheless and care should be taken before deciding to play any poker in this state.
For more US poker information, please visit our online poker sites for us players page. Includes a list on which poker sites accept players from Arkansas and more.

Are Home Poker Games Legal in Arkansas?
Arkansas clearly takes an anti-poker stance and the state does not make any exception for poker games that are held in a residence. Even though it is commonplace in so many states for states to allow games that are not held for profit (rake), Arkansas maintains that social, private poker games violate the law.
In the past, the state has actually gone after these games, but they are usually concerned with the person responsible for hosting the game. In Arkansas, running an illegal gambling house is Class D felony and can carry up to a six year prison sentence! In general, the law enforcement agencies are concerned with real, underground poker rooms, not friendly weekend poker games.
Does the State of Arkansas Have Casinos or Card Rooms?
Arkansas actually doesn't have any traditional casinos. Instead they have racetracks where gamblers can place bets on horse races and greyhound races. More recently, these establishments have been permitted to install slot machines in their facilities. Sure it's not the same as poker, but slot machines are much more fun that just playing the state lottery. These games are also great way for racing enthusiasts to add some variety to their visits to the track.
Because Arkansas is deeply rooted in a non-poker environment, it seems unlikely that any of this will change soon. As with most states, lobbyists on both sides of the issue are constantly fighting about introducing new forms of authorized gambling, but right now the anti-gambling crowd has a dominant upper hand.
Does Arkansas Allow Online Poker?
It shouldn't come as a surprise that Arkansas' outdated gambling laws don't touch on the topic of online gambling. While talking about its horse racing regulations, they make it clear that making a bet by using a telephone is prohibited, but they do not dig any deeper. For the moment, you can be confident that the government doesn't have the means or the right to control and monitor your internet connection.
This gives you a slight shield of protection should the courts ever decide that their normal anti-poker laws apply to online poker as well. As a note, you don't need to worry about federal laws that relate to online gambling because they do not have anything to do with the people who are actually playing.