South Dakota Poker - Online Gambling Laws in South Dakota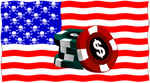 Is Poker Legal In South Dakota?
Many are surprised to hear that South Dakota's gambling laws are in line with many of the more progressive states in the union. They allow gambling in approved gambling sites, and nowhere else. The legislature has even made a foray into the world of online poker, but they have not stopped everybody from playing just yet. Keep reading to learn how these laws work.
Learn which USA poker sites will accept players from the state of South Dakota

Does South Dakota Allow Home Poker Games?
Our starting point for interpreting South Dakota's poker laws is a sever banishing of all gambling. The state's ban on gambling (22-25-1) states "Any person who engages in gambling in any form with cards, dice, or other implements or devices of any kind wherein anything valuable is wagered upon the outcome, or who keeps any establishment… for such gambling… is guilty of a Class 2 misdemeanor."
This law does not just include the people playing, but the operator of the game as well. Both actions fit the same crime in this state, and they are both misdemeanors. Also, there are no exceptions for home games, whether they are held for profit or not. It should be noted, however, that South Dakota has a thriving community of players who occasionally get together for a home game. Although illegal, the law enforcement agencies do not seem too determined to bust these get-togethers.
Does South Dakota Have Casinos or Card Rooms?
South Dakota does allow a handful of casinos to operate within the state, but most of these are relatively small. The government does not heavily restrict what games can be offered, so the larger casinos generally have slots, table games, video machines, and live poker rooms with at least a few tables. Texas Hold 'em and Stud poker seem to be the most popular games, but Omaha, or Omaha Hi/Lo is not out of the question.
Is Online Poker Legal in South Dakota?
South Dakota has made a surprising entrance into regulating online gambling. They have actually prohibited the pastime but only for certain people. Let us look at the law in question, Section 22-25A-7: "No person engaged in a gambling business may use the internet or an interactive computer service to bet or wager." So what exactly is a "gambling business"? Here is the state's definition:
22-25A-2: "For the purposes of this chapter, the term, gambling business, means a business that is conducted at a gambling establishment or involves the placing, receiving, or making of bets or wagers or offers to engage in the placing, receiving, or making of bets or wagers."
So if you are not involved in running one of the state's casinos, or any kind of illegal gambling operation, then playing online poker is legal. This is an interesting way to allow the public to play with only limited legislation, and other states may decide to follow suit. Although we will not go into the details, you should know that the United States federal government has not made online poker illegal.