Massachusetts Poker Sites - Legal Poker In Massachusetts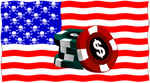 Find The Best Online Poker Sites Accepting Players From Massachusetts
Is Poker Legal in Massachusetts?
All of the gambling laws in Massachusetts are outdated to say the least. Not a single gambling bill has been passed since the start of the twentieth century. From these archaic laws we can decipher some of the ways the state has limited poker, but also we can identify the different avenues poker players can choose to play legally.
You can find out which poker sites accept players from Massacusetts by reading our US poker online guide.

Is it Legal to Play Home Games in the State of Massachusetts?
To answer this question, we need to really dig our teeth into the Massachusetts Penal Code, and try to make some inferences. One important issue is whether poker is a skill game, or a game of chance because Massachusetts protects skill games. We don't get a straight answer from the law, and there are no standing precedents from the courts, so we'll have to wait to get that answer.
If poker is one day determined to be a game of skill, then home games would be legal, and even if it's considered a game of chance, the host of the game is probably the only person in violation of the law. Technically the District Attorney would charge you with running a lottery, because all forms of gambling in Massachusetts are legally called Lottery games.
The only text in the entire Penal Code that would put poker players in violation of the law can be found in Chapter 271: Section 2. If you are betting in a public place, or gambling while simultaneously trespassing on someone else's property, then the players can be held liable. Obviously though, these conditions do not apply to normal poker games.
Can Casinos in Massachusetts Offer Poker?
Right now, casino-style gambling is a hotly debated topic in Massachusetts. There have been lots of proposals to license three or more casinos in the state, but these plans always seem to get shot down. Luckily, it looks like Massachusetts isn't too far from adopting some sort of legalized gambling (beyond horse tracks).
Every year, it is estimated that over $1 billion is spent out of state by Massachusetts citizens while gambling. Casinos in Connecticut and Atlantic City, NJ are the primary destinations but no matter where these players go, it's clear that the state is losing out. Activists against legalized casinos cite the fact that Native American-owned casinos aren't subject to the same taxes and may not provide a significant local boost.
Is Online Poker Legal in Massachusetts?
Massachusetts hasn't put a gambling law in the books for almost a century so of course they haven't confronted the world of online poker! Based on their current laws, it looks like playing poker online is legal, but if you were to own an online poker room, then you'd be in clear violation of their statutes.
Having said that, the federal government has thrown some hurdles at online poker players. By restricting the flow of money from financial institutions (ie. Banks and credit card companies) to online poker rooms, the whole industry has suffered, and sometimes players get caught in the middle of the mess. It's not a crime to play, but it might be more trouble than it's worth.