Minnesota Online Poker Sites - Legal Poker In Minnesota - Gambling Law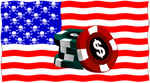 Find The Best Online Poker Sites Accepting Players From Minnesota
Is Poker Legal in Minnesota?
Minnesota has a pretty complex set of gambling laws. When it comes to playing games of chance, it is automatically a misdemeanor to make a bet (section 609.755). As we move beyond this starting point, there are lots different loopholes and exceptions, some of which are particularly beneficial to poker players. Keep reading to learn when poker is legal and when it is not according to the state of Minnesota.
You can find out which poker sites accept players from Kentucky by reading our USA online poker guide.

Are Home Poker Games Legal?
Many of them aren't, but Texas Hold 'em is the notable exception. According to subsection 3 of Section 609.761, a specific list of social skill games are legal, and Texas Hold 'em is on that list. It's not a free for all though; in fact, there are at least four very important conditions you must meet for a legal Texas Hold 'em game.
1. - No person under 18 years of age may participate.
2. - Payment of entry fee and other consideration (ie. Rake) is prohibited.
3. - The value of all prizes awarded to an individual player may not exceed $200 per day.
4. - The organizer must make accommodations for the disabled including cards with Braille print and visible cards must be announced to the entire table.
All four of the above conditions must me met for a game to be legal. You can't pick and choose, and three out of four does not count. Also, there is no mention of any other poker game in the law, so you should probably stick with Texas Hold 'em if you have any intentions of keeping the game legal.
If a non-Texas Hold 'em game is taking place, or if any of the five conditions are not met, then everybody is liable. The players can be charged with a misdemeanor for unlawful gambling, and the host of the game is even worse off. By operating a place of gambling, the host of the game can be imprisoned for up to one year and/or receive a fine worth up to $3,000.
Do Minnesota's Casinos Have Poker Rooms?
Minnesota also grants exceptions to the Native American Tribes to operate casinos within its borders. Most of these casinos are actually full gambling resorts with nightclubs and fine dining, but their gambling is of the highest quality as well. Because these casinos come in all shapes and sizes, they all have different offerings.
In the largest resorts, poker rooms are practically guaranteed. These facilities have all of the most popular poker games, but Texas Hold 'em and Omaha are by far the most common. Unlike the stipulations on home games, these casinos can offer much higher limits, but at the same time they do rake the pot.
What About Online Poker?
Minnesota doesn't have any laws that specifically pertain to online gambling. In the spring of 2009, they tried to block the state's residents from visiting online poker rooms in accordance with the federal wire act, but for constitutional reasons, the efforts were unsuccessful. Today, online poker might seem like risky business, but the state of Minnesota hasn't made a crime of it.