Michigan Online Poker Sites - Legal Poker In Michigan - Gambling Law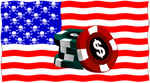 Find The Best Online Poker Sites Accepting Players From Michigan
Is It Legal To Play Poker in Michigan?
Michigan is actually one of the best states in the country for poker players, but it's not lawless by any means. There's still a huge collection of rules and regulations that control gambling, and even poker isn't completely unrestricted. Read on to learn the details and to make sure your poker games abide by Michigan's laws.
Learn which poker sites are open to players from Michigan. Check our US poker online guide.

Do The Casinos in Michigan Have Poker Rooms?
Michigan is very flexible with its casinos, and Detroit is especially well liked for its gaming industry. Because of this, casinos are given enough freedom to have slot machines, video poker, casino table games, and even poker rooms.
Many of the same companies that run Las Vegas casinos, such as MGM Grand, own and operate casinos in Michigan. As long as they are licensed with the state, and actively keep children under the age of 21 out of their facilities, these casinos can do nearly whatever they please.
It didn't take long for these huge resorts to realize that America was in love with poker. To accommodate players throughout the Midwest, these casinos built lavish poker rooms that offer a wide variety of poker games at all hours of the day. In the end, this also significantly helped reduce unlawful back-room poker games.
Are Home Poker Games Allowed in the State of Michigan?
Michigan has specifically decided to allow home poker games, but they must meet two conditions. They must be held in a private residence, and the owners of the establishment cannot profit from the activity. No this doesn't mean that they aren't allowed to win, but that they can't run their home like a poker room. No raking the pot, and no charging players for entry. Also, if you are hosting a private poker game in Michigan, you are responsible for making sure that nobody under the age of eighteen is present.
Poker is allowed even when other popular gambling games are not, because Michigan does not consider poker a game of chance. This distinction means that most applicable gambling laws do not apply to poker, and players are given a lot of flexibility.
An interesting consequence of this distinction is that the laws that prohibit cheating while gambling do not apply to home poker games held in Michigan. While larceny and theft charges may be applicable if a cheater succeeds, cheating during a private poker game remains 100% legal.
Has Michigan Outlawed Online Poker?
Michigan hasn't outlawed online poker, and they haven't even mentioned it in law (it was brought up in 1999 but repealed in 2000). Based on the general rules for poker in the state, it is likely that they have no intention of making online poker illegal. The only time you would encounter a problem would be if you were actually running an online poker room for profit. This would clearly be in violation of article 432.218 of the Michigan Penal code for "conducting a gambling operation where wagering is used or to be used without a license issued by the board" which carries a maximum sentence of up to 10 years in prison or a $100,000 fine.