Maine Poker - Poker Laws in Maine - Home Poker Games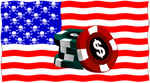 Is Playing Poker Legal In Maine?
Maine has a succinct and clear set of gambling laws that dictate when and where you can play games like poker. If you are looking for Las Vegas-styled glamorous resorts, then this is not the state for you. But if you are fine with some friendly home games, or even just interested in playing online, then Maine can be fairly poker-friendly to you.
You can find out which poker sites accept players from Maine by reading our US poker online guide.

Does Maine Allow Home Poker Games?
Maine doesn't have a very expansive set of gambling laws. The most important part of the state's gambling law is Section 954 of Maine's Penal Code, which says "Any person is guilty of unlawful gambling if that person intentionally or knowingly advances or profits from unlawful gambling activity."
The important part of this law for home poker games is the fact that a person is guilty only if they make a profit. As long as the host of the game isn't running it like a backroom, underground card club, then there is no problem. This means you cannot rake the pot, and you definitely can't charge people a one-time fee to play. As long as you are just volunteering the use of your home, then there is no problem, legally, with hosting or attending a private poker game.
Does Maine Have Casinos or Card Rooms?
Maine isn't a very large state, so it only has one casino: Hollywood Slots at Bangor. As a poker player, you probably won't have much interest in this establishment though because it is not a full-fledged casino. In fact, it got its start as a horse racing track, and the laws have changed to allow it to grow in recent years.
Today, this "casino" offers a bit more than a racebook. They've got over one thousand gaming machines including classic slots, video poker, video roulette, and other themed games. In addition to the growing casino floor, the non-gaming aspects have continued to expand as well. This mini-casino has grown into a small resort, and it attracts more visitors every year.
Is Online Poker Legal in Maine?
Maine doesn't have much restriction in the realm of gambling, and they certainly do not keep their poker laws up to date as new technology comes into the picture; the internet is never mentioned. Also, the fact that you can play poker in Maine, as long as you aren't profiting, seems to paint a picture of a state where online poker is 100% legal.
As an American, it probably has occurred to you that there may be federal online anti-gambling laws. Well technically there are, but the good news is that they do not apply to you. You could play poker online from dawn to dusk every single day, and you wouldn't have broken a law. The United States government is actually targeting the banks or credit card companies that help players make deposits to and withdrawals from online poker sites. This could become a hurdle to really playing, but it is a far cry from criminalizing the activity.