Kansas Poker - Poker Laws in Kansas - Home Poker Games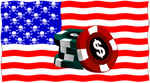 Is Poker Legal in the State of Kansas?
In the Kansas statutes (Section 21-4303), we are told "Gambling is: Making a bet or entering or remaining in a gambling place with intent to make a bet, to participate in a lottery, or to play a gambling device." That's right, just being in a place of gambling is enough to get arrested. In the state of Kansas, gambling is a class B nonperson misdemeanor.
Find out which poker sites online allow players from the state of Kansas by reading our US online poker guide.

This law is the root of the entire gambling section of Kansas' Penal Code, and from here on out we begin to learn the exceptions and the caveats that allow for some forms of gambling, and make other forms more illegal. To learn all of the different ways you can play poker legally, keep on reading.
Are Home Poker Games Legal in Kansas?
Kansas doesn't make an exception to its gambling laws for poker games just because they may be held in a private home. In fact, it doesn't even matter if the operator of the game is profiting or not, the game is illegal either way. The only way you could legally have a home poker game is if there was no betting taking place.
We talked about the fact that even non-profit home poker games are illegal, but there is still a distinction. If the operator of the game is charging a fee or raking the pot, then the game is considered "commercial gambling" according to section 21-4304 of the Kansas State Penal Code.
Does Kansas Have Casinos or Card Rooms?
Kansas might not be very pro-gambling when it comes to home games, but they give a very long leash to those who operate casinos within the state. The Native American Indian Tribes are allowed to operate full-fledged casinos that would normally fly in the face of the legislation that we've already discussed.
These casinos can do pretty much everything they want. First of all they are open twenty-four hours a day, every day of the week. As far as gambling goes, these establishments can do it all. From slots to craps, and roulette to keno, everything is legal. Poker is also included, and generally the larger casinos have poker-only rooms that offer everything from Texas Hold 'em to Stud.
Does Kansas Allow Online Poker?
So home games are illegal, but casinos can do it all, so where does online poker fall? Well we don't have any really good answers. You'll be happy to know that the state of Kansas doesn't actually make any mention of online poker, or any other form of electronic gambling. This leaves a high level of ambiguity as to whether the current laws also apply to gambling online. To be safe, you may want to contact your local law enforcement agency.
One thing we do know for sure is that the federal government is not targeting online gamblers, even though it is targeting the industry. As long as you don't own an online poker room (which would be illegal at all levels of government) you haven't got a thing to worry about.