Indiana Poker - Poker Laws in Indiana - Home Poker Games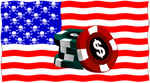 Is Poker Legal in the Indiana?
In Indiana, gambling does not include "bona fide contests of skill, speed, strength, or endurance in which awards are made only to entrants or the owners of entries", but according to the state government, Poker is not a game of skill. By labeling poker as a game of chance, it effectively outlawed the game. Barring some specific exceptions (such as authorized casinos) poker is illegal in the state of Indiana.
Find out which online poker sites accept players from the state of Indiana by reading our US online poker guide.

Are Home Poker Games Legal?
In a lot of states, if no one is making a profit by running private social games then they are legal, but Indiana doesn't see it that way. In fact, there are no forms of legalized home poker games. According to IC 35-45-5-2 Unlawful gambling Sec. 2, "A person who knowingly or intentionally engages in gambling commits unlawful gambling." Which is a class D felony charge!
As you can see, the law is extremely clear. The government does not want its citizens gambling barring a few exceptions. Most notably, charitable organizations can become licensed to offer up non-profit games of chance such as bingo for fund raising purposes. Also, the authorized casinos that send millions of dollars back to the government are allowed to host all sorts of gaming activities.
Do Indiana Casinos Offer Poker?
Even though we examined the state's hard-line ant-gambling policies above, the state does allow some casinos to operate. These casinos can provide slot machines, table games, video poker, keno, and all sorts of poker. As a gambler in Indiana, these locations are the only places in which you can legally gamble.
Indiana has ten privately owned casino facilities with poker rooms. These glamorous resorts offer up a serving of Texas Hold 'em, Omaha, Stud, and Hi/Lo varieties; pretty much everything you could ask for. In addition, the ability to play in a real casino gives you a higher level of security and professionalism than a typical home game can offer.
Is Online Poker Legal?
Indiana is on the leading edge of state that has gone after the world of online gambling. After making some minor changes to their gambling laws, they clarified the fact that online gambling would not be tolerated. You cannot own an online poker room, and you certainly cannot play in one either.
On the enforcement end of the discussion, the state's tactics have yet to be seen. In all practicality it would be extremely difficult, if not constitutionally forbidden, for the state law enforcement to monitor the necessary information to catch online gamblers in the act, but the federal government is working on their side.
In the fall of 2006, the Unlawful Internet Gambling Enforcement Act was passed into federal law, and the online gaming industry changed overnight. All of a sudden the government was pressuring the banks to stop payments to and from offshore online poker rooms, and the battle is still being fought today. Although Americans are still playing poker online, it may become more difficult to deposit and withdraw funds in the future.