Georgia Poker - Georgia Poker and Gambling Laws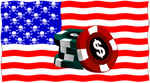 Is Poker Legal in Georgia?
No, there is no way to legally play the game of poker in Georgia. According to Georgia's Penal Code (16-12-21), "A person commits the offense of gambling when he plays and bets for money or other thing of value at any game played with cards…" Any violation of this law may result in a misdemeanor charge.
For more information please visit our page on us poker sites for players that live in the state of Georgia.

Is Online Poker Legal in Georgia?
Georgia, like most states, has not officially made any laws that deal with playing poker online. It seems, however, that they won't need to re-evaluate their current gambling laws to update them for the twenty-first century. In one of the least poker-friendly states in the union, it could be expected that online poker will one day be made illegal.
From a federal perspective there are no laws that hinder poker players from playing online, but there are some technical restrictions that can make the task much more difficult. In the end, neither the state or federal government have taken steps to criminalize online poker, and neither organization has ever gone after poker players for taking part in online poker games.
Can I Play Home Poker Games in Georgia?
The State of Georgia maintains that playing poker is illegal, and they make no exception for private games. In some states, if the host does not charge the players or rake the pot, then a private poker game is legal, but Georgia does not make that same distinction.
In section 16-12-20 of the Penal Code, a gambling place is defined as "any real estate used for the purposes of gambling." Yes, it does go slightly more into detail, but any location that is home to any form of gambling does fall under this category.
So if you get caught hosting a home poker game, you could be charged, to the full extent of the law for operating a gambling place. The charge is a misdemeanor of a high and aggravated nature, but depending on the type of game, it's likely that the charges would be lessened. Whether or not these laws are strictly enforced for home games is another story, but suffice it to say that friendly home poker games are rarely "busted".
Is Poker Available in Georgia's Casinos?
Georgia actually does not have any legally operating casinos. Slot machines and table games are completely illegal, and there are no exceptions for any operators. Because of these restrictions, a large percentage of the Georgian population is forced to travel to the Carolinas and Mississippi (as well as Las Vegas) to gamble at all.
The one exception to the no-gambling policy is in the form of Lotteries; state-operated lotteries that is. In fact, Atlanta may soon be installing digital lottery machines that resemble slot machines throughout the city to raise revenues!
Every year there is more pressure for the Legislature to allow regulated poker and casino games, and every year they come closer to making the decision. According to Robb Pitts, the Fulton County Commissioner, "Georgians love to gamble… It's my prediction that within five years, we will have casino gambling here in the state of Georgia."