Hawaii Poker - Hawaii Legal Poker Sites - Home Games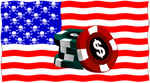 Is Poker Legal in Hawaii?
Hawaii has put certain measures in place to make sure poker is legal under some circumstances and not under others. According to section 712-1223 of the Hawaiian Penal Code "A person commits the offense of gambling if the person knowingly advances or participates in any gambling activity." While poker is considered gambling, there is at least one exemption from the law that you should be aware of. To learn when poker is illegal in the state of Hawaii, simply keep on reading.
Find out which USA poker sites are accepting players from the state of Hawaii in our US poker guide.

Are Home Games Legal In Hawaii?
Hawaii has a special exception for "social gambling". Social gambling occurs if all players play on "equal terms", nobody is profiting from operating the game, the game is held only in a private residence, no minors are present, and the gambling in question is not bookmaking. Most home poker games fall within these requirements with only a few exceptions.
To make sure you private home poker games fall under this category, the operator of the game should not charge any of the players or rake the pot. Also, you may be held responsible if any minors are participating in the game, so make sure you know everyone involved. As long as you can stick to these basic guidelines, your home poker games are completely legal in the state of Hawaii.
Does Hawaii Have Casinos Or Card Rooms?
Hawaii allows only a very limited variety of gambling. Bingo, raffles, and some sports betting may be allowed in the state but no organized casinos can set up shop in Hawaii. Many people attribute this anti-gambling attitude to the b Mormon influences that date back to the very discovery of the islands.
In addition to the long standing religious beliefs, the state of Hawaii is already a major tourist destination among Americans, so it's unlikely that the local economy would be heavily impacted by the introduction of casino resorts. For both of these reasons, most Hawaiians are content to live without casinos, and it seems likely that Hawaii will stay this way for a very long time.
Is Online Poker Illegal In Hawaii?
No, Hawaii has never included any online gambling legislation to its Penal Code. In general, it seems that the same freedom-loving attitude that spawned the legalized social gambling would also lead the state to turn a blind eye to those residents who gamble online from the comfort of their own homes, but this could change in the future.
From the perspective of the Federal Government, the issue of online poker is a little more complicated. With their Wire Act and the Unlawful Internet Gambling Enforcement Act the United States Government is starting to crack down on online gambling. These laws, however, do not make online poker players criminals. Instead they target the banks, credit card companies, and other financial institutions that complete the withdrawals and deposits which make online poker possible. These federal laws may make your online gambling experience a bit inconvenient, but you cannot be prosecuted.